October 6, 2014 --
By Rick Sohn, PHd, Umpqua Coquille LLC
Timber Industry Report September 30, 2014
Log and lumber prices remain unseasonably strong. Family owned mills, optimistic about demand, are making over $100 million in machinery and electronics investments in the near future. Yet, regional Federal forests are drowning in wood, with nowhere for it to go, but up in smoke. It's time to demand rational behavior from our elected officials. Statistics from recent years, of lumber manufacturing, home construction, and housing markets, are compared to 2005.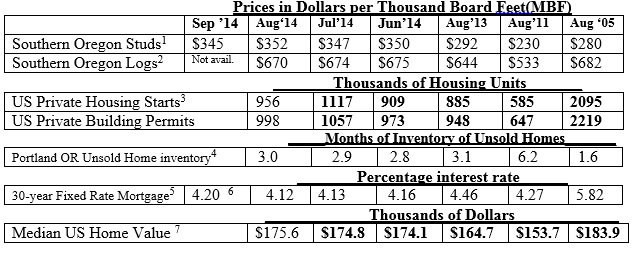 Interpretation and Looking Ahead.
Stud lumber prices remain strong, the highest summer prices since 2005. Furthermore the price for studs is less volatile for the first 9 months of the year, than any year since at least 2005. The demand for logs has pushed summer log prices to the highest levels since 2005 for a summer period.

Print This Post
Email This Post