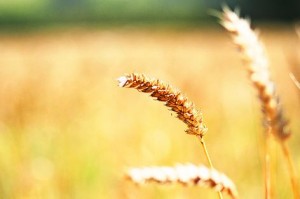 From Oregon Wheat Grower's League,
Oregon Wheat Newsletter, 7/15/2008
On June 30, 2008 the Oregon Wheat Commission met and adopted an assessment rate increase from $0.03 to $0.05 effective July 1, 2008.  The Wheat Industry Task Force presented their recommendations to both the Commission and the Oregon Wheat Growers League on May 6, 2008. One of their recommendations was to increase the assessment to 1 percent of final settlement or net receipts. The Commission felt this was too much of an increase and voted to request an increase of ¾ of 1 percent. Commission policy requires all rate increase proposals be taken to the growers for input before any decision can be made by the board. In an effort to collect grower input, listening sessions were held in several counties throughout the state offering growers an opportunity to provide input in person in addition to the opportunity to submit comments in writing.
The last assessment rate increase was adopted in 1991. With costs of living continuing to rise, the Commission has been struggling to continue supporting core research, marketing and grower education programs with no option to support new and innovative projects for some time. Over the past several years there have been several cuts to programs in addition to the downsizing of the Commission offi ce, staff and all overhead costs. The purpose of the Oregon Wheat Commission is to increase the profi tability of the grower which requires sustainable funding levels to needed programs.
The Commission board conducted very thoughtful deliberations, reviewing all written comments and reports from listening sessions as well as listening to growers in attendance at the meeting. The Commission members seriously considered their fi duciary responsibility in making this decision. It was the consensus of the Commissioners to follow the direction of the growers. The majority o growers were not opposed to an increase but wanted a cent per bushel rate with no refundability.
The Commission will be developing a policy at its upcoming meetings to insure reserves are maintained at a reasonable level. The Industry will also be jointly considering the other changes recommended by the Wheat Industry Task Force in the coming months.