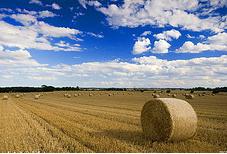 The Oregon Agricultural Education Foundation is collecting recipes for a heritage cookbook to honor the 50th anniversary of the Oregon Century Farm & Ranch Program and Oregon's sesquicentennial celebration.  According to OAEF Development Director Janice Reed, "The cookbook will be an offering to Oregon's farm and ranch families, and to all Oregonians. Agriculture has never been more important to the state's future. Our agricultural heritage and the families that represent that heritage are also our part of that future."
Since 1958, more than a thousand families have been honored for operating family-owned ranches and farms for a century or more. Members of these families are invited to contribute favorite family recipes to the project. The heritage cookbook will also feature historic photographs, personal stories, and a roster of the century farms and ranches.
"We're looking for favorites, whether they are family traditions today, or what everybody liked best at a picnic decades ago," says Richard Engeman, a member of the management committee for the Century Farm & Ranch Program and editor of the book. Contributors will receive a free copy of the cookbook. Publication is scheduled for the spring of 2009 by White House Grocery Press, and the book will be sold at local bookstores, museum stores, online, and by mail order.
Century ranch and farm family members who would like to contribute to the cookbook should contact Richard Engeman by phone 503-235-9032; email [email protected]; or by mail at 8512 SE 13th Avenue, Portland, OR 97202.
"We're especially looking to contact families from the early years of the program, for whom we may no longer have contact information, or who may no longer be directly involved in agriculture," says Engeman. "We want your favorite turkey stuffing, bean salad, or cherry pie recipe. And if you have a favorite recipe for a household cleaning powder or a lemon honey drink for a sore throat, send that, too!"
Contacts for additional information or quotations
Janice Reed, OAEF, 503-399-1701, [email protected]
Madeline MacGregor, Dept. of Agriculture, 503-986-4758, [email protected]
Glenn and Judith Mason, Oregon Century Farm & Ranch Program Coordinators, 503-297-5892, [email protected]
Richard Engeman, cookbook editor, 503-235-9032, [email protected]
###
Oregon Agricultural Education Foundation – Century Farm and Ranch Program
Richard H. Engeman
Oregon Rediviva LLC
8512 SE 13th Avenue
Portland, OR 97202
[email protected]
503-235-9032