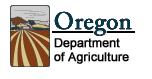 [Oregon Agriculture Department Release 07/30/2008]   The 2008 Olympic Games kick off next week in Beijing, China, and Oregon agriculture will be part of the scenery as the world watches on. The color green is part of the backdrop thanks to Oregon grass seed and nursery products that have been finding their way to China for several years. For that nation's largest city, massive efforts to beautify the landscape as well as provide top flight venues for the Olympic competition have relied on a couple of key Oregon agricultural commodities.
"Oregon will have a very large profile during the Olympic Games," says Dalton Hobbs, assistant director with the Oregon Department of Agriculture. "It's not just because of the athletic prowess of the participating U.S. athletes who hail from Oregon, but also the high standing of our agricultural industry- primarily our grass seed and nursery growers."
Oregon's grass seed industry- in partnership with ODA and Oregon State University- has worked with China for more than a decade introducing grass seed as a way to beautify cities and stabilize some of the country's steep terrain. About 20 million pounds of Oregon grass seed has been exported to China this past year, more than half through ODA phytosanitary certification.
"China has replaced Japan as Oregon's number one grass seed export market," says Jim Cramer, administrator of ODA's Commodity Inspection Division, which provides seed certification. "Oregon is also the largest grass seed exporter to China."
Since Oregon produces seed for about 60 percent of the world's supply of cool season grasses, it's no surprise that the world's most populous nation would look to the state for some of its "green" needs.
"We are selling a lot of grass seed to China for erosion control- sending a lot of clover to control dust in cities like Beijing," says Steve Tubbs of Turf Merchants, Inc. (TMI) in Tangent. "What took us about 30 years to develop a a U.S. market for Oregon grass seed has taken about three years in China. Chinese interest in our grass seed may calm down a bit after the Olympics, but it won't stop."
The color green is now important to the Chinese in more ways than one. As China's economic base has developed, often with the help of joint venture partnerships with western countries, business executives travel to the country looking for western amenities. That usually translates to such green things as parks, lawns, and golf courses. Tourists in China also prefer to see green trees and grass, not brown dirt and concrete. With hundreds of thousands of visitors to Beijing Olympics over the next few weeks, and millions of TV viewers, it is highly likely that any grass on display on the playing fields or elsewhere in the city comes from Oregon.
Meanwhile, grass seed has opened the door for a companion Oregon commodity- nursery stock.
"It has helped create a positive awareness of Oregon in certain areas of China, and has left some of our producers with positive experiences and relationships in China," says Patrick Mayer, one of ODA's International Trade Managers, who has helped Oregon's nursery industry introduce products to the Chinese.
Four years ago, Oregon nursery stock was planted in the Beijing Botanical Garden with hopes of promoting the state as a quality source for plant material. Since then, Oregon has had better success selling nursery stock to other parts of China, particularly Shandong Province, the northern port city of Jinan, and Shanghai. Key Chinese contacts of Oregon's grass seed industry have helped connect the nursery industry with many of the main buyers of nursery stock in China. In the last few years, Oregon has exported about a half million dollars worth of nursery stock to China, mostly shade trees.
Other Oregon-grown products like seafood, hazelnuts, and wine have found a market in China and could be among the many items consumed during the Olympic games in Beijing. But in the big picture, China is still a developing destination for Oregon agriculture. In 2007, Oregon sent about $91 million of ag exports to China. By comparison, Oregon last year exported about $781 million worth of agricultural products to Japan.
"Opportunities to increase Oregon agricultural exports to China will certainly improve, but for selected products like hazelnuts, grass seed, and nursery stock, the numbers right now are significant," says Mayer.
The Olympic Games remind those in agricultural production and processing that Oregon has the ability and product lineup to participate in various world class venues.
"Literally, millions of people who watch the Olympics will see a bit of Oregon whether they know it or not," says ODA's Hobbs. "For those who market and promote these products, that gives Oregon a huge calling card in terms of telling our story. As other municipal governments look to Beijing and see the Olympic venues, they'll want to have the same kind of beauty and green in their cities. They may ask where did China get the grass and the shade trees. Invariably, the answer will be Oregon."
Hobbs sees Oregon becoming a one-stop shop for urban greening and beautification programs. All the landscaping done in preparation for the Olympic games in Beijing have required products that Oregon offers. He also notes the state's unique niche when it comes to turf-type grasses associated with a variety of sporting events.
"There is almost a 100 percent likelihood that any kind of world class athletic event that is played or contested on grass will be done so thanks to grass seed from Oregon," says Hobbs. "We can point with pride to the Super Bowl in football, World Cup soccer competition, national golf championships like the U.S. Open in Augusta- these are events that are played on a turf product that has Oregon written all over it."
The Olympics, combined with the relatively cheap U.S. dollar, has prompted China to purchase a great deal of American goods and products. Oregon has been a major beneficiary of the Chinese demand and hopes to cash in on the opportunities well beyond the games in Beijing.
For more information, contact Bruce Pokarney at (503) 986-4559.