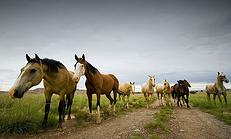 [OR Dept. of Agriculture Release 09/05/08] — The Oregon Department of Agriculture, working with the Clackamas County Sheriff's Office, is responding to the abandonment of 11 horses that show signs of neglect and starvation. The horses were found abandoned in a rural area of the county earlier this week. ODA is holding the animals in a secure area in advance of a public sale scheduled for next week.  Meanwhile, ODA and the Clackamas County Sheriff's Office (CCSO) are conducting an investigation to determine the previous owner of the horses.
The public sale, which ODA is required by law to hold, is being conducted out of concern for the horses' welfare. ODA is looking to find individuals who can provide humane care and treatment of the animals. The sale will take place Wednesday, September 10 at 10:00 a.m. at the Woodburn Livestock Exchange, 597 S. Pacific Highway in Woodburn. The horses will be available for early viewing one hour prior to the sale.
Most of the 11 horses have a green, four-digit tag with black numerals attached to their rump. Anyone with information about the incident or who might be able to recognize these tags should contact the Clackamas County Sheriff's Office at (503) 723-4949.
For more information, contact Jack Noble (ODA) at (503) 986-4681 or Deputy Morgan Guthner (CCSO) at (503) 723-4949.