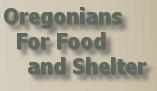 Oregon Food and Shelter Press Release,
The NW Power and Conservation Council have issued their revised fish and wildlife program for public comment and are holding a series of public meetings throughout the region over the next several weeks (schedule below).  Program costs are increasing dramatically as a result of the new salmon plan or Biological Opinion issued by NOAA Fisheries, and settlement agreements reached by Bonneville Power with some states and tribes in the hydrosystem litigation. 
Taken all together, the Council is in the unenviable position of seeing the cost of the fish and wildlife Program increase from $143 million annually to $232 million, a 60 percent increase.   While the agreements will help in the litigation before Judge Redden, and many of the projects may well benefit fish, we need to encourage the Council to "hold the line" and ensure rigorous science review of proposed projects.  It also is an opportunity to encourage them to remove the Fish Passage Center as a named entity in the Program.  As you know, the FPC has proven itself an advocacy organization, not an independent arbiter of good science.
RiverPartners' is asking for your help at these meetings.  Background and talking points are enclosed for your use.  It is important and helpful that the Council hear from as many people as possible during the public comment period as they will be hearing from others in the region that Program funding still needs to be increased. They also are accepting written comments on the Program at:  www.nwcouncil.org.
Kay Gabriel is organizing our public comment effort.  Please contact her and let her know if you plan on participating at a meeting.  Her email is:  [email protected]  and her phone number is:  (206) 329-5961.  Thanks for your help!
Public hearing schedule
•    Tuesday, September 16, 5-7pm
Holiday Inn Express, 204 W Marine Dr, Astoria, Oregon (map)
•    Monday, September 22, 5:30-6:30pm
Red Lion River Inn, 700 N Division, Spokane, Washington (map)
•    Tuesday, September 23, 5-7pm
Red Lion, 624 21st St, Lewiston, Idaho (map)
Port 2 Room, hotel contact is Ginger Riley, 208-799-1000
•    Wednesday, September 24, 5-7pm
Joe R. Williams Bldg, 700 W State St, Boise, Idaho (map)
State contact is Janie, 208-332-1900
•    Wednesday, September 24, 5-7pm
Red Lion, 304 SE Nye Ave, Pendleton, Oregon (map)
•    Thursday, September 25, 5-7pm
Red Lion, 600 E Yakima, Ave, Yakima, Washington (map)
•    Tuesday, September 30, 5-7pm
St. Martin's University, 5300 Pacific Ave SE, Lacey, Washington (map)
Norman Worthington Conference Center
•    Tuesday, October 14, 10am
Kwa Taq Nuk, 49708 US Hwy 93 East, Polson, Montana (map)
Michel Victor Room
•    Tuesday, October 14, 4:30pm
Red Lion, 20 N Main St, Kalispell, Montana (map)
•    Wednesday, October 15, 5pm
Holiday Inn Parkside, 200 S Pattee St, Missoula, Montana (map)
•     Tuesday, October 21, 5-7pm
Council Central Office, 851 SW Sixth Avenue, Portland, Oregon (map)