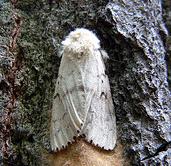 [Oregon Dept. of Agriculture Release] Gypsy moth trapping in Oregon has officially ended for 2008 with a final tally of 12 gypsy moths detected statewide- the same number of catches as last year. A majority of detections have taken place in a residential area of Eugene, which could lead to a proposed project next spring to eradicate the plant-eating invasive insect.  Officials are generally pleased with the results considering what it was like in the mid-1980s when some 19,000 gypsy moths were trapped in Lane County alone.

"Twelve moths doesn't sound like very many when you compare it to the hundreds of thousands of gypsy moths found in the eastern part of the U.S.," says Helmuth Rogg, supervisor of the Oregon Department of Agriculture's Insect Pest Prevention and Management Program. "But we still want to keep the gypsy moth out of Oregon and protect our beautiful state."
Every year during late spring, ODA trappers place the bright orange or green tent-like traps throughout the state. This year, more than 18,000 traps were placed, inspected, and now taken down.
Of the 12 gypsy moths trapped in Oregon this year, seven were found in a residential neighborhood of south Eugene. Three gypsy moths were recovered from separate traps located in the Portland area and are considered unrelated to each other. Two gypsy moths were trapped on the grounds of a rural fire station in Lane County three miles southwest of Eugene and are also considered a separate introduction unrelated to the detections in Eugene.
There were no detections of gypsy moth in Shady Cove of Jackson County, the site of this year's only gypsy moth eradication project in Oregon. Last year, six gypsy moths were trapped in the area.
"We will have another year of mass trapping in Shady Cove to make sure we eradicated that gypsy moth population," says Rogg. "Our experience is that two years of negative trapping- no detections of gypsy moth in the treated area- indicates the gypsy moths have been eradicated."
Although no final decisions for 2009 have been made, it appears that the site in Eugene is a strong candidate for a spray project. The seven detected gypsy moths were caught near the site where two moths were captured in 2007.
"That indicates to us there is a likelihood of a breeding population of gypsy moth in the area," says Rogg. "Unfortunately, we have not been able to pinpoint the source, but our trap findings indicate the area where we believe the source is located."
Gypsy moths typically enter Oregon by hitching a ride on vehicles or outdoor household articles originating from infested areas of the United States, often as families relocate to Oregon from the eastern U.S. In the past, at other locations where gypsy moths have been trapped, ODA survey technicians have recovered live female gypsy moths, egg masses, pupal cases, and larval skins on specific property occupied by residents who had moved from areas where the insect pest is common. Even though that kind of evidence has not been uncovered in Eugene this year, the trapping data is enough to help ODA focus on where to set the boundaries for any eradication project that takes place next spring.
"What we are preparing to propose is an area to be treated before the breeding population of gypsy moth spreads to other areas of southeast Eugene," says Rogg.
In particular, ODA is looking to keep the invasive species from establishing in a nearby forested area in Eugene's Amazon Park, which would make it much more difficult to eradicate in future years.
"Our philosophy is to have a sound detection program that will find the gypsy moths early and allow us conduct eradicative actions over a very small area, impacting as few people as possible," says Rogg.
Between now and next spring, ODA will be making a lot of preparations. That includes putting together an environmental impact study and developing information to present at public information meetings that will probably be held early next year. Information will also be sent directly to affected residents in the area. The final decision to spray would be made by the ODA Director by late winter or early spring. Although plans are still being developed, it is expected that aerial applications of the biological insecticide Bacillus thuringiensis var. kurstaki (Btk)- a pest-specific bacteria which has been used safely and successfully on gypsy moth for decades in Oregon- will be proposed for an area between 640 and 1000 acres in Eugene.
"Even though we are using a product that is certified and labeled for organic farming, we want to make sure we do everything we can to minimize the impact on the environment and the public," says Rogg.
For the other sites in Oregon where gypsy moths have been caught this year, there will be no proposed eradication project. Instead, ODA will place additional traps next spring and closely monitor the results. Single detections rarely get treated and any population of gypsy moth at those sites often disappear by the next year.
Even though gypsy moth detection and eradication programs have almost become routine, newcomers to Oregon might wonder why a small insect is such a big headache.
"Gypsy moth is the major pest of trees and shrubs in the East," says Rogg. "If established in the West, it could defoliate trees and shrubs. It could impact our forests. It could impact our agriculture. It could impact our urban environments. Back east, millions of acres have been defoliated by the gypsy moth."
Rogg and others would rather not have to learn to live with the pest. That's why the ambitious trapping program is so important and why the quick eradication action when breeding populations are detected is so critical. Oregon has a zero tolerance for the nasty insect.
So far, that formula has worked well in keeping gypsy moth from establishing in Oregon.

For more information, contact Helmuth Rogg at (503) 986-4662.