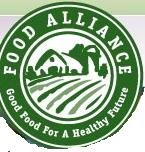 by Sustainable Food News
PORTLAND – Sustainable food certifier Food Alliance Thursday unveiled comprehensive national standards for sustainable sheep and goat production with strict criteria for raising and treating the animals. "Consumers want to know the foods they buy are good for them, and good for the environment, " said Scott Exo, Food Alliance executive director. "By verifying their marketing claims against independent standards for social and environmental responsibility, companies can increase consumers' trust and loyalty and, often, gain market rewards. "
Portland, Ore.based Food Alliance certifies farms, ranches and food processors for sustainable agricultural and production practices such as safe and fair working conditions, reduction of pesticide use and toxicity, healthy and humane care for livestock, no genetically modified crops or livestock and no hormones or nontherapeutic antibiotics.
Over 300 farms and ranches in 23 U.S. states, Canada and Mexico are certified as sustainable by Food Alliance. These producers manage over 5.6 million acres of range and farm land, raising beef, lamb, pork, dairy products, mushrooms, dried beans and lentils, wheat, and a wide variety of fruits and vegetables.
Annual sales of products certified under its comprehensive ecolabeling program hit $100 million in 2007, and cumulative sales of Food Alliance certified products reached $350 million since the group 's inception in 1998.
Food Alliance's new standard replaces one previously used by the organization to certify Northwest sheep growers, and now applies to goats and both meat and wool producers, and accommodates conditions throughout North America.
The new standard covers a wide variety of animal welfare issues, including: animal health and nutrition; handling practices and facilities; pasture management; nutrient management; pest and weed management; and hazard reduction and sanitation.
The standards do not permit the use of hormone treatments, nontherapeutic antibiotics, genetic modification, embryo transfer or cloning. In addition, feeds may not contain animal byproducts of any kind, with the exception of milk or milk products such as whey.