From: www.energytrust.org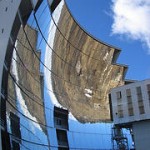 PORTLAND, Ore. –– Umpqua Bank, a subsidiary of Umpqua Holdings Corp. (NASDAQ: UMPQ), and Energy Trust of Oregon Inc., an independent nonprofit organization, are joining forces to help Oregonians invest in energy efficiency and renewable energy as energy prices continue to rise.
The two organizations are working together to offer GreenStreet Lending, affordable loan products that make it possible for consumers and businesses to make energysaving improvements and harness solar power in their homes and businesses.
The new GreenStreet solar and energy efficiency loan options will be available November 12.
They will offer a low interest financing rate and can be paired with Energy Trust's cash incentives
and Oregon energy tax credits to make energy efficiency home and business improvements
financially accessible to a broader market.
"Rising energy costs and increasing environmental concerns are both weighing heavily on
consumers' minds. Umpqua Bank and Energy Trust have created GreenStreet Lending to make it
easier for Oregonians to afford and have access to the kinds of smart home and business
improvements that save energy and generate power – and will pay for themselves over time,"
said Margie Harris, executive director for Energy Trust of Oregon.
"A shared commitment to investing in the future of our communities brought Umpqua Bank and
Energy Trust together to create the GreenStreet Lending program's environmentally-responsible
loan options, which make energy efficiency and renewable power more accessible and costeffective," said Lani Hayward, executive vice president of creative strategies for Umpqua Bank.
"Umpqua is pleased to be the program's recommended lender and excited to begin working
towards a cleaner future for Oregon."
To help homeowners identify improvements that will save energy and minimize costs, Energy
Trust offers free Home Energy Reviews. These reviews offer a customized plan for increasing
energy efficiency and are often the first step to identifying potential for solar options.
Energy Trust's Home Energy Reviews are available to Oregon customers of PGE, Pacific Power, NW Natural and Cascade Natural Gas and can be scheduled online at www.energytrust.org/solutions or by calling 1-866-368-7878. Energy Trust also sponsors workshops for homeowners interested in solar power, for more information visit www.solarnoworegon.org. Information and resources for businesses are available at www.energytrust.org/commercial.
To View Full Story visit: www.energystar.org