Guest Submission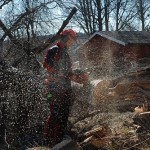 The Oregon Department of Forestry (ODF) has selected George Ponte (say 'pont') to head up its Central Oregon District. Employed by ODF since 1989, Ponte succeeds Travis Medema as District Forester. Medema accepted a staff position in the headquarters office in Salem earlier this year.
 
Since March, Ponte has been gaining on-the-job experience as acting District Forester of the sprawling District that spans 11 counties. During the year prior he served as Assistant to the Eastern Oregon Area Director, helping with oversight of the administrative unit that includes the Central Oregon, Klamath-Lake and Northeast Oregon Districts.
The Oregon State University graduate began his career with ODF on the westside as a State Lands Forester administering timber sales and overseeing reforestation in the Coast Range Mountains west of Eugene.
 
In 1993, he was promoted to Forest Practices Forester stationed in Veneta, where he worked closely with private landowners to ensure compliance with the Oregon Forest Practices Act. Three years later, he moved to the east side of the Cascades to fill a similar slot in Prineville.
 
Ponte was promoted to Protection Unit Forester of the Central Oregon District's Prineville-Sisters Unit in 2003. In that position, he built on his firefighting experience by supervising the Unit's initial- and extended-attack organization.
In that period, Ponte was also actively involved with implementing the National Fire Plan, and he assisted in the development of Community Wildfire Protection Plans as well as implementation of the Forestland-Urban Interface Fire Protection Act.
 
In 2005, a five-month staff assignment to ODF headquarters in Salem provided him experience with legislative issues and biomass energy initiatives.
 
As Central Oregon District Forester, he will administer ODF programs on 2.3 million acres of forestland. Ponte works out of the District office in Prineville.