Guest Submission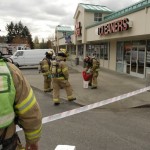 The Oregon Department of Environmental Quality is proposing to issue a no further action determination for the former Gresham Cleaners site at 40-360 Burnside Rd.  in Gresham Oregon.
The Voluntary Cleanup Program has reviewed site assessment activities performed at the site and determined that no further action is justified because the site does not pose a risk that exceeds the acceptable risk level.
Gresham Cleaners operated from 1991 through 2004. A dry cleaning solvent, tetrachloroethene, and its breakdown products, were detected in soil and groundwater in 2006.
Two years of groundwater monitoring indicates that the groundwater plume is not expanding. A beneficial water use survey did not identify any uses of groundwater within the locality of facility.
DEQ will consider all public comments received before making a final decision regarding the "No Further Action" determination.  Comments are due by December 1st, 2008