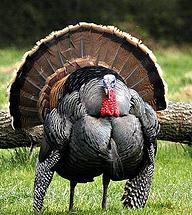 By Oregon Dept. of Agriculture,
The distinct sound of gobbling turkeys in Oregon has generally grown silent the past 15 years. What was once a thriving agricultural industry left the state- a rarity among Oregon's diverse list of commodities. While there are a few locally-grown birds sold to niche market consumers this year, most Oregonians will sit down to a Thanksgiving dinner featuring a turkey produced in California, Utah, or Minnesota.
"At one time, Oregon was a large producer of turkeys, probably producing up to 30 percent of the West Coast supply from the Willamette and Yamhill valleys," says Dalton Hobbs, assistant director with the Oregon Department of Agriculture. "Due to consolidation of the turkey processing industry and a few other factors that hit during the early 1990s, all that commercial production has gone away."
Hobbs was ODA's communications director at a time when Oregon produced about 2.5 million turkeys. Now there are only a handful of small-scale producers who specialize in organic, pasture raised, or so-called "heritage" turkeys- birds produced through natural mating, not through artificial insemination as is the case with commercial turkeys.
"Oregon did a good job of growing turkeys," recalls Hobbs. "Our climate was amenable to turkey production, and suited growers and the processors. Turkeys were a nice part of Oregon's agricultural product mix."
Many factors led to the demise of Oregon's turkey industry in the early 1990s. But the bottom line is that it's cheaper to grow turkeys in California, Utah, the Midwest, or in the southeast U.S. and ship them to Oregon for sale than it is to actually grow them locally.
"Turkeys are generally raised where the feed is," says Hobbs. "The closer you are, the lower the production cost. Unfortunately, Oregon is rather distant from the feed sources of soybeans and dry corn."
That wasn't much of a problem prior to 1993, when Oregon still produced a few million turkeys. That's a far cry from the present day turkey production of Minnesota (48 million), North Carolina (39 million), Arkansas (31 million), and even California (16 million). Still, Oregon had enough critical mass to sustain the turkey industry and offer consumers an Oregon-grown product.
Then, a series of events eroded the industry.
The Oregon Turkey Growers Association, a national marketing cooperative essentially representing Norbest, went through several managers at a time when continuity might have helped, according to Jim Hermes, poultry specialist with Oregon State University Extension. With several states using the Norbest label, Oregon growers had to settle for the national price on turkeys. Being far from feed sources gave growers in other states a competitive advantage. At about the same time, a batch of contaminated turkeys was shipped from Oregon to Utah- something that hit the news headlines at an inopportune time. For all intents and purposes, that was the final straw for Oregon's turkey industry.
"The most visible problem was the recall of some 70,000 turkeys just prior to Thanksgiving 1992," says Hermes. "The industry just couldn't recoup from that event."
Yamhill County, with about 85 percent of the state's turkey production, shouldered the brunt of the loss. However, just as the entire state absorbed the loss of the entire turkey industry, Yamhill County was able to fill the vacuum through such successful commodities as nursery crops.
"Towards the end of the industry, there were about 25 turkey growers with 10 of them primarily responsible for most of the state's production," says Hermes. "Today, some of those same growers are producing fryer chickens inside the same facilities that were producing turkeys. Others have modified their buildings to store grass straw or some other commodities."
Today's consumers who prefer to buy a local product do have the option of purchasing from small scale producers. These customers reserve a bird in the spring by pre-ordering even before the turkey is raised. By the time holiday season rolls around, the turkey has been fully grown and slaughtered, and is ready for the dinner table.
The return of a large scale turkey industry in Oregon is unlikely, according to Hermes.
"There have been some inquiries into having breeder flocks of turkeys in the state to produce hatching eggs," he says. "Normally when that occurs, there might be a few producers who may want to grow some commercial birds. However, Oregon's primary problem is that there is no place to process the turkeys. We do not have a slaughter plant."
For Oregonians, there has been little impact from the loss of turkey production statewide. There is no shortage of turkeys available year around, let alone during Thanksgiving and Christmas. With the rare exception of those who prefer a fresh vs. a frozen turkey, shoppers don't seem to care if the bird comes from California or North Carolina. Even when Oregon produced turkeys, most headed out-of-state.
While Oregon never likes to see the loss of an industry, the demise of the state's turkey production can serve as a valuable lesson.
"With this inexorable trend towards consolidation in agriculture, our growers need to understand that the ways of the past may not be the ways of the future," says ODA's Hobbs. "We need to be nimble, creative, and proactive in our production strategies and offering a product that fills a need."
Oregon's agricultural industry is more dynamic than most states. New commodities may crop up while older, smaller ones decline or even disappear. The state is strong enough to absorb the addition and subtraction.
For more information, contact Bruce Pokarney at (503) 986-4559.