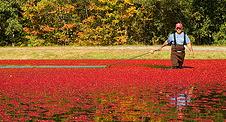 Oregon Department of Agriculture — Just a few short years ago, Oregon's cranberry industry faced devastating market conditions that paid growers as little as eight dollars per barrel. This year, thanks largely to the quality and desirability of Oregon's version of the berry, many producers along the southern coast are receiving as much as $150 per barrel. The cranberry revival is a boost to a local economy that has been hoping for some good news ever since the decline of the timber and fishing industries in recent years.
"It's exciting to see how well our cranberry growers have rebounded after some challenging conditions earlier this decade," says Katy Coba, director of the Oregon Department of Agriculture. "Like many of our state's commodities, we think we produce a premium cranberry that commands a top price. Oregon may not grow as many cranberries as Wisconsin or Massachusetts, but I'm sure no other state produces a better quality cranberry."
Oregon's cranberry production has remained relatively constant over the years. Acreage planted in cranberries has stayed in the general range of about 2,700 acres- nearly 1,700 in Coos County and the rest in Curry County- and annual production the past five years has maintained a level between 450,000 and 500,000 barrels. That is far behind Wisconsin's 3.8 million barrels and Massachusetts' 1.5 million barrels, but puts Oregon close to New Jersey as the nation's third leading cranberry producer.
What has changed drastically over the past decade is the price paid to the growers and, from 1999 through 2002, a notable decrease in production. Last year's average price per barrel was $64. But in 2004 and 2005, the price was $34 per barrel. Times were even tougher in 2001 when the production level dipped below 300,000 barrels and the average price reached only $21 per barrel. In 1999, with an average price of only $11 per barrel and only 320,000 barrels of production, Oregon's cranberry industry dipped in value to about $3 million- ten times less than last year's production value of $31 million.
Production in 2008 is down a bit because this summer's lack of warm, sunny weather has left Oregon cranberries a little smaller than usual. But the price paid is more than making up the difference.
"The price has doubled even from last year, which is unprecedented in our industry," says Carol Russell, who helps run A&B Cranberries of Bandon with her husband Allen. "We are used to price increases of about a dollar a barrel. Last year was the first year since 2000 that growers have actually made enough money to cover the cost of production."
During the tough times, Oregon growers needed to cut costs and were not always able to use fertilizers. That left many cranberry beds in poor shape. It has taken nine years now to nurse those beds back to good health. In that same time, the industry itself has gotten back on its feet.
"I estimate we lost about 25 percent of the south coast growers during the downward period," says Russell. "We had one family with three generations working the farm that just walked away from it all because they couldn't afford to continue."
Some growers got into the business before the price crash of the late 1990s and quickly moved on. Most longtime growers struggled but survived. Recently, the industry has actually picked up a few new producers.
A classic case of supply and demand has led to the favorable price. Cold storage inventory of cranberries is down. However, consumers continue to recognize the health benefits of berries in general- creating a demand for cranberry products. A majority of Oregon growers are independent and are among those getting the highest prices. However, Ocean Spray- the cranberry giant which operates a plant on the south coast and contracts with dozens of Oregon growers- also deserves credit for doing a fantastic job of marketing the fruit. By creating a market for itself, it has created a market for all cranberry growers.
Some cranberry growers credit ODA for successfully promoting the crop and its positive features.  Oregon cranberries primarily go into the processing and ingredients market, ending up as juice or in items like cereal and muffin mix. The Oregon cranberry is large in size and has a bright red color that is desirable to processors. One berry produces about twice as much juice as east coast cranberries. Buyers are taking notice.
"Most of the calls I've received this year specifically ask for Oregon cranberries, even though there are cranberries available elsewhere," says Russell. "These buyers are willing to pay more for Oregon cranberries."
Cranberry growers in other parts of the U.S. are not receiving the same high price as those in Oregon. While the harvest in the Midwest and east coast has been over for weeks, Oregon growers are still busy shaking the fruit off the vine in bogs along the south coast. The harvest will be wrapped up before the end of the month.
The value of the cranberry industry to the local economy can't be overstated. The sandy, acid soils that run from Coos Bay to Port Orford combine with the area's climate to make cranberries one of the few agricultural commodities that can excel along that strip of coast. Local timber and fishing restrictions have created ripples in the economy that stress the importance of cranberry production.
"There have been layoffs in other industries in this part of the state, but the cranberry industry has been fairly stable," says Linda White, Oregon State University commercial horticulture specialist with the Coos County Extension Office. "The industry has provided secondary jobs for those who provide goods and services to cranberry growers."
White says acreage in Curry County is increasing slightly and, as many growers replant beds with higher yielding vines, she expects an eventual overall production increase. But as long as the price stays high, even the current production level will allow the industry to remain viable and profitable- something that seemed unlikely just a few years ago.
For more information, contact Bruce Pokarney at (503) 986-4559.