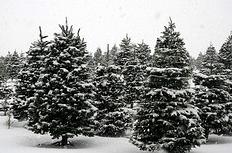 By Oregon Farm Bureau,
The delight of gazing at a light-strewn, decorated live Christmas tree and the festive feeling its evergreen aroma inspires does not need to be accompanied by a nagging sense of guilt.  The Oregon Farm Bureau wants to inform consumers that despite what they may have heard over the years, buying a fresh Christmas tree is a better environmental choice than buying a plastic tree.  Why? Live trees from Oregon are local, renewable, recyclable, are not made from petroleum, nor did they use the energy to be shipped half way around world from China.
"Oregonians should feel good about purchasing an Oregon-grown Christmas tree this holiday season," says Oregon Farm Bureau President Barry Bushue, a nursery operator in Boring. "Live trees are sustainably produced by family farmers and are 100 percent recyclable. Consumers can also enjoy the smell and beauty that only a fresh Christmas tree can bring."
Some people mistakenly believe that Christmas trees are clear-cut en masse from forestland. Not so.
Like wheat or corn, farmers grow Christmas trees in fields, or nursery plots. But instead of an annual harvest, the trees typically take 5 to 6 years before they are ready for sale. Christmas tree growers have rotating plots with trees of varying ages to ensure that each year there are enough mature trees by November and December. After a crop of trees is harvested, another is planted.
There are around 720 licensed Christmas tree growers in Oregon, according to the Oregon Department of Agriculture. The climate of the Willamette Valley is perfect for raising evergreens, and the almost 8 million trees harvested in Oregon are of exceptional quality. Oregon's trees are so preferred, in fact, that our state is the number one producer of Christmas trees in the nation. Last year Oregon's Christmas tree production was valued at an impressive $114.4 million, making it the eighth largest out of 220 agriculture products raised in the state.
And of course fresh Christmas trees are biodegradable. Many communities publicize Christmas tree recycling programs soon after New Years.
###
*  In 2007, Oregon Farm Bureau celebrated its 75th Anniversary as the state's largest general agriculture organization. Farm Bureau has more than 8,000 member families professionally engaged in agriculture in all 36 Oregon counties. Oregon Farm Bureau, 3415 Commercial St. SE, Salem, Oregon 97302, (503) 399-1701
www.oregonfb.org