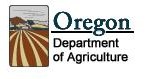 SALEM, Ore. — The Oregon Department of Agriculture says that federal conservation payments to Oregon farmers and ranchers have more than tripled since 2000.
The payments by the U.S. Department of Agriculture fund various conservation programs, including compensation to take environmentally sensitive land out of agricultural production.
Other projects are aimed at improving water quality, reducing soil erosion, and enhancing wildlife habitat.
Oregon received nearly $94 million in USDA payments last year, up from about $23 million in 2000.
State officials say the numbers show that Oregon farmers and ranchers are increasing their commitment to protecting and improving the state's natural resources.