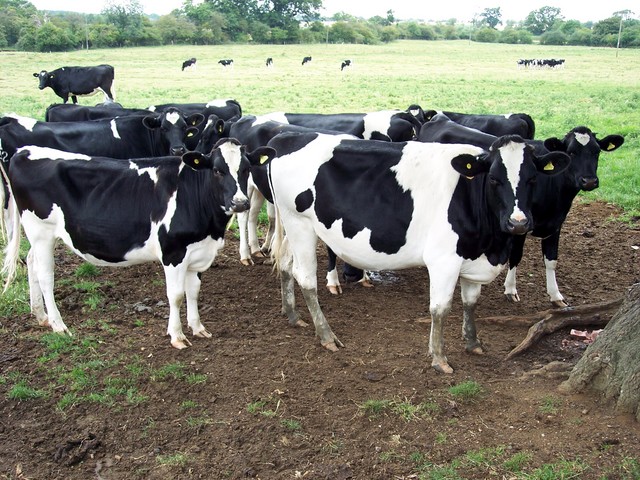 Guest Submission
Oregon's largest dairy will test a new generation of technology that captures methane from cow manure–tapping an underused energy source and lowering greenhouse gas emissions.
NW Natural and Bonneville Environmental Foundation are building the $1 million methane digester at Threemile Canyon Farms in Boardman. Methane digesters are not new, but Bill Eddie of the foundation said the model developed by J-U-B Engineers of Boise, Idaho, costs much less and can be used on small farms as well as big ones.
That means small farms wouldn't have the expense of trucking heavy manure to a central facility. Instead, they could have their own digesters and pipe excess gas to a collection spot.
Unlike older digesters that rely on concrete and steel to build the manure holding basin, the new design contours the earth and lines the basin with plastic. The covered basin is filled with old tires, which serve as a matrix for bacteria that break down the manure, allowing the methane to be drawn off for use as fuel.
The utility and the environmental group get half the capital costs back as state energy tax credits spread over five years. NW Natural can sell carbon offsets to its 6,300 Smart Energy customers, who make up about 1 percent of its customer base. The dairy can substitute the methane for propane to heat water that is used to clean milking parlors.
Agriculture accounts for about a third of the methane released into the atmosphere in the U.S. Other sources include landfills, coal mining, and oil and gas refineries. It is considered the No. 2 greenhouse gas contributing to global warming, after carbon dioxide.
Oregon is one of the seven western states and four Canadian provinces that have signed the Western Climate Initiative to cut greenhouse gas emissions in the region by 15 percent by 2020.
The Threemile Canyon equipment is scheduled to go on line in March.
"It's a risky project," said Eddie. "Every piece of the revenue stream is going to be important."
Farm manager Marty Myers said the digester fits the dairy's existing manure handling operation and easily be expanded if the test works out. The methane could ultimately power the refrigeration units that cool milk.
Threemile Canyon Farms employs 300 people full time and 400 seasonally. The farm milks 16,000 cows on a farm covering 93,000 acres. Until now, the manure has been held in a lagoon and sprayed on the farm's 37,000 acres of farmland growing feed for the cows.
The digester will handle the manure from 1,200 cows, each producing an estimated 120 pounds of manure a day — for a total of about 144,000 pounds a day.
Once technology is ready to remove impurities, NW Natural expects to use digester methane in its pipelines, said spokesman Bill Edmonds. Methane is the main component of natural gas.
Stephanie Page, renewable energy specialist for the Oregon Department of Agriculture, said methane digesters are coming into increasing use in Oregon. Two are working on diary waste in Tillamook and Salem, and others are in municipal waste. A fruit processing company outside Corvallis is developing one.
Cow power: Ore. dairy tests new manure-energy tech
© 2008 Associated Press. Displayed by permission. All rights reserved.
You may forward this article or get additional permissions by typing http://license.icopyright.net/3.5721?icx_id=D950QO2O1 into any web browser. Press Association and Associated Press logos are registered trademarks of Press Association. The iCopyright logo is a registered trademark of iCopyright, Inc.