Oregon Department of Fish and Wildlife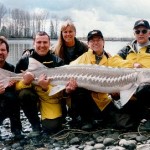 CLACKAMAS, Ore. – After a difficult start to the 2009 fishing season precipitated by heavy snow and flooding, anglers are starting to venture back out onto the Willamette and Columbia rivers in pursuit of white sturgeon.
The Oregon Department of Fish and Wildlife is reminding anglers that new regulations for sturgeon fishing are now in effect.
Permitted sturgeon fishing days have changed under the rules for 2009.
This year, retention of legal-sized sturgeon is allowed three days a week – Thursday, Friday and Saturday – on the Willamette River, Multnomah Channel and the Columbia River from Bonneville Dam downstream to the Wauna power lines at River Mile 40.
These areas are closed to sturgeon retention Sunday through Wednesday. However, they are open to catch-and-release fishing for sturgeon on these days.
The sturgeon season is currently open to retention 7 days a week below the Wauna power lines and above Bonneville Dam.
Another change that sturgeon anglers need to be aware of is the new method of measuring sturgeon for retention. The correct way to measure this species is from the tip of the nose to the fork of the tail.
White sturgeon on the Willamette and Columbia from Bonneville to the Wauna power lines must measure 38-54 inches with this measure to be retained. A more detailed explanation of the new fork length measurement technique and why the change was made is available on the Oregon Department of Fish and Wildlife's (ODFW) Web site.
Some anglers have been cited recently for retaining fish on Sunday in the Willamette, which is illegal, and for retaining sturgeon that were improperly measured. Anglers should ensure that they are aware of which area they are fishing and which rules apply to avoid legal problems.
For more information about the new regulations, please click on the following link:
Sturgeon anglers reminded to observe 3-day season on Willamette, Columbia