Guest Submission: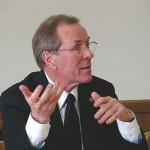 SALEM — Gov. Ted Kulongoski said he fears the four-year extension of the federal safety net will run out before the new forest management plan offered by the Bureau of Land Management is implemented in Western Oregon forests.
The governor said he expects litigation from environmentalists will delay implementation of the plan on 2.2 million acres of the Oregon & California Railroad trust lands past the 18 months that Douglas County officials have said they believe it will take to withstand legal challenges.
"I think it's going to be locked up in litigation for the next two or three years and then I'll run out the four-year extension and then I'm going to be in a crisis all over again. I wanted to avoid that," Kulongoski said.
The governor, speaking at the Capitol before a group of newspaper reporters, editors and publishers, said he supports the Western Oregon Plan Revisions' call for increased harvest levels to 502 million board feet per year.
However, he said the BLM should have held public hearings and should have consulted with other agencies on how to comply with the Endangered Species Act and the National Environmental Policy Act. Those laws require the government to maintain habitat for threatened or endangered species such as the northern spotted owl and the marbled murrelet.
To read the rest of this article and watch a video with Governor Kulongoski's comments on the Western Oregon Plan Revision please visit: Forest Plan Could Take Years to Implement