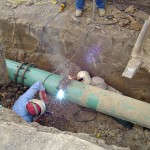 Guest Submission:
PORTLAND, Ore. — Oregon Sen. Ron Wyden says he opposes a U.S. Forest Service decision to allow a natural gas pipeline to run through Mount Hood National Forest.
The Palomar pipeline would start east of the Cascade Range in Maupin and end on the coast in Astoria.
The Oregon Democrat wrote Forest Service head Gail Kimbell, saying the proposed $800 million project would cut across up to 66 streams and rivers in the national forest.
Palomar pipeline project manager Henry Morse told Oregon Public Broadcasting the pipeline would be an alternative to the natural gas pipeline that runs through the Columbia River gorge.