Guest Submission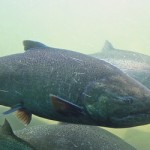 Oregon Department of Fish and Wildlife
OREGON CITY, Ore. – The bi-state group that sets fishing seasons for Columbia River fisheries met Thursday Jan. 29th without setting a season for spring chinook salmon.
The Columbia River Joint Compact has traditionally set the season for spring chinook at its winter meeting. This year, however, the process has been delayed because the fish and wildlife commissions in Oregon and Washington have not yet agreed on a final allocation between sport and commercial fisheries.
At Thursday's meeting, Oregon and Washington fishery managers outlined some general options for what a spring chinook season might look like, and heard public testimony on these options.
The Columbia River is open to spring chinook fishing from Jan. 1 to Mar. 1 under permanent regulations. Each year Oregon and Washington amend the permanent season to provide additional fishing opportunity, if the forecasted run size permits.
Also at Thursday's meeting, the Joint Compact modified regulations for the winter non-Indian commercial sturgeon fishery and set other treaty fisheries.
Go to Managers postpone setting Columbia River spring chinook season to find out more