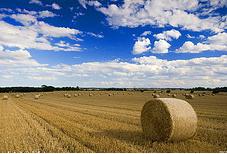 Weekend National Natural Resource Focus:
American Farm Bureau –January 22, 2009 – An economic stimulus bill up for consideration by lawmakers must include investment in programs that will strengthen American agriculture and rural life, the American Farm Bureau Federation said today. "America's farmers, ranchers and rural communities are vital to our nation's economic future," AFBF President Bob Stallman wrote in a letter to members of the Senate and House appropriations committees.
"It is crucial to the future of rural communities that broadband deployment be approached in a manner that produces long-term economic growth," Stallman said. He urged the inclusion of $6 billion in the American Recovery and Reinvestment Bill of 2009 to build a reliable rural broadband network that is affordable, moves data quickly and securely, and can be adapted as telecommunications technology changes.
"The slow or nonexistent deployment of modern telecommunication services in rural areas hinders the health, education, safety and economic opportunities of rural Americans. It also obstructs rural citizens' access to goods and services enjoyed by Americans living in more densely populated areas," Stallman said. He also urged funding for the Rural Business-Cooperative Service, to provide rural business grants and loans, as well as for health information technology that will improve the quality of health care services.
Improvement of the nation's transportation system, particularly rural highways and the inland waterway system of locks and dams used to transport domestic goods including farm products to market, also is critical, according to AFBF.
"Our rural highways and bridges are outdated and crumbling. It is imperative that rural America get an equitable percentage of the proposed $30 billion for highway and bridge construction projects," Stallman said.
In addition, AFBF urged the inclusion of $2 billon in the stimulus bill for critical upgrades to the nation's locks and waterway infrastructure.
"Not only will this investment ensure that our nation's waterways will be a viable mode of transportation for years to come, it will create jobs and economic opportunity for Americans living along our waterways, and enhance our competitiveness," Stallman said.
AFBF expressed support for a number of other initiatives in the bill, including funding for new food and agriculture research on increasing productivity, development of domestic biofuels and food safety.
-30-