Oregonians for Food and Shelter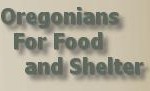 Legislative Report 1/23/09
The new, the very young and the more seasoned legislators all showed up in Salem to begin the 75th legislative session on January 12, 2009 to find newly remodeled offices and one party in charge.
Legislators and lobbyists have spent the first two weeks attending orientation and organizational committee meetings. There is nervous hand-wringing and angst about the serious declining state tax revenue. All Committee hearings to date have been dedicated to agency overviews except the Senate Ethics Committee. There appears to be some urgency to amend the ethics reform bill passed in 2007 following complaints and resignations of elected officials and volunteers around the state linked to more stringent reporting that included family members.
According to Dexter Johnson of Legislative Counsel, since the reporting requirements took effect, 200 elected officials have resigned and 758 have not returned their statement of economic interest (SEI). The Ethics Reform bill was sponsored and ushered through the legislature in 2007 by the newly elected Secretary of State Kate Brown. Unfortunately, another one of those bills that sound good, but the devil is in the details.
To date over 900 measures have been introduced in the Senate and House. Attached to this report you can find a list of only those bills of primary interest to OFS issued so far. We fully expect many more to come, particularly dealing with pesticides – many of which will likely be carbon copies of bills introduced and defeated by OFS in 2007.
CHAIR SCHAUFLER SETS THE TONE:
The following comments by Rep. Mike Schaufler (D), chair of House Business & Labor Committee, were made as he opened the first committee meeting on January 16, 2009. We think they are words of wisdom for all to follow – particularly in a session that will likely be filled with emotional issues that could pit one neighbor against neighbor.
"I'm State Representative Mike Schaufler, House District 48, Happy Valley and outer southeast Portland. I've have the privilege of being in a labor union and being a small business owner myself. My wife is a dentist and employs seven women at her practice. And you know a couple of things I want to say before I talk about the committee."
"We have a liquid natural gas project that could start tomorrow, a pipeline going all the way to Maupin. Thousands of jobs! We have a western Oregon plan review relating to timber on Bureau of Land Management lands. The plan has been in process for five years! Ten state agencies and the Governor's staff have been attending these meetings. 3,800 jobs out in the forest are at risk if this plan does not go through. 1,200 new jobs could go in if the plan is approved. Five thousand jobs! We have a water bill here today, a draft, that could create thousands of jobs in eastern Oregon and help those working families out there in the hinterland provide services."
"In this economic climate when people tell me in this building that they are against these projects, to be quite frankly, they're not serious about economic recovery; they're not serious about working families having a job so they can provide"
"This committee here, obviously business and labor, is a symbiotic relationship. My goal here is to create policies that attract and retain investment here in the state of Oregon, creates jobs and gives people that same opportunity I talked about before — and generates the revenue needed to provide services.
"This is my fourth term, my second term as chair on this committee and I look forward to working with every single one of you. In this committee we are going to have some things that people don't like. If you don't like it, I suggest that you approach these nice people up here (legislators) and persuade them that you don't like it or do like it. That's how it works. If we have the votes on this committee we're going to pass it out. If we don't, we're not – we're not (even) going to have a work session.
"The best way to fail in this room is to treat somebody with disrespect in this building – especially the staff. You want to beat me up over my politics – that's fine — you know where to find me. But in this building we treat everyone with respect. And I can promise you, if you want to make an enemy out of me, just go ahead and treat somebody with disrespect. Because that's the way it's going to be (with me), but I'm confident none of that's going to happen."
DEPARTMENT OF AGRICULTURE:
• General Fund dollars cut 20.76%
• Fee increases to livestock program, nursery licenses and Christmas trees.
• $600,000 in other funds from existing revenue provided by Food Safety License fee to upgrade Lab Equipment.
• Adds $185,502 other fund, 1 Full Time Equivalent monitoring for compliance in fertilizer program.
Program Reductions:
• Eliminates Funding for the Pesticide Use Reporting for 2009-2011. The system will be "put on hold" pending improved revenue in next biennium.
• General fund for the Predator Control Program cut by $335,000. $12,000 remains in ODA budget.
• Eliminates two positions in the Agricultural Water Quality Program. Reduces lottery funds by $338,231.
• Lottery fund shift weed grants available to local governments and other cooperators by $439,766. $2,000,000 remaining for weeds grants.
• Significant fund shift from general fund to other funds in the food safety program. Removes $1,885,579 in general fund. Replaced by fees from licenses paid by grocery stores, food processors, etc. Program budget moves from 60% other funds and 40% General Funds to 83% Other Funds and 17% General Funds. Will most likely need fee increases in 2011 to sustain program.
• Fund shift in the animal health program from General Fund to fees paid by registering veterinary products. $250,000 cut in General Fund to be replaced by fees. Program shifts from 35% General Funds to 25% General Funds. Will most likely need fee increases in 2011 to sustain program.
• Eliminates state's 1/3 fund contribution to the Invasive Species Coordinator. Program will need to find other funds or federal fund grants to fund lost share.

DEPARTMENT OF FORESTRY:
• General Fund dollars cut 10%.
• It all came down to choice between fire or Forest Practices Program. Virtually all of their General fund dollars go to two programs – forest practices and fire protection. The Governor's budget would achieve virtually all of the savings in the forest practices program. As a result, that program would suffer a 37% reduction in General Fund support. And while the fire protection program would be kept relatively whole, that would be accomplished in part by charging forest landowners with $2.3 million in costs normally paid by the General Fund. (Normally, those costs are split 50-50 between the General Fund and landowner assessments. The Governor's budget would change that ratio to 45% General Fund and 55% landowner assessments, a net $2.3 million shift.)