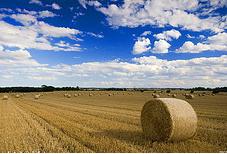 Oregon State University,
Extension Service
CORVALLIS, Ore. – Oregon's farmers and ranchers grossed an estimated $4.9 billion in 2008 – the largest total in the state's history and the sixth consecutive year of sales growth, according to a new report by Oregon State University.  The total is a 1.2 percent increase from a revised figure of $4.8 billion generated in 2007, said the annual report, which was released by the OSU Extension Service today.
"The slight improvement in gross sales in 2008 is a result of increases in most crop and livestock sectors, which offset decreases in ornamental crops, farm forest products and cattle," said Larry Burt, an OSU Extension economist and lead author of the report.

The report contains preliminary gross farmgate sales estimates for 2008 and revised numbers for 2007 and 2006 obtained from about 70 OSU Extension and research faculty members across the state.
Of the 84 individual commodities listed in the report, 57 showed increases in preliminary sales estimates when compared with revised 2007 numbers. One decline was cattle sales, which fell 6.6 percent because of drops in inventory and prices, according to James Males, the head of OSU's animal sciences department.
Additionally, because of volatile calf prices, many producers retained ownership of their calves even after they were sent to the feedlot, meaning that those sales won't show up until this year, said Chad Mueller, a beef cattle expert at OSU's research center in Union.
Nevertheless, cattle still managed to make their way to the top of the sales list with $664 million. On their tails, in second place, were nursery crops (excluding greenhouse crops, which are estimated separately). Nursery stock sales wilted by a substantial 10.8 percent to $624.5 million because of reduced shipments at lower grower prices, Burt said.
Crops, which made up 71 percent of all sales, grew 1.3 percent to $3.5 billion in 2008 compared with the prior year, the report said. Sales of livestock, dairy products and poultry – which made up the remaining 29 percent – inched up 1.1 percent to $1.4 billion in 2008 versus 2007 owing to increases in prices for dairy and poultry commodities, Burt said.
Hay and forage posted the biggest year-on-year jump of all the 12 broad commodity groups listed in the report, soaring 23.6 percent to $458.1 million in 2008 with help from higher grower prices for alfalfa hay and other types of hay, Burt said.
A combination of factors caused hay prices to increase, according to Mylen Bohle, an OSU Extension forage agent in central Oregon. The main reason, he said, was that lucrative prices for corn and wheat lured farmers to plant them instead of alfalfa in some instances. Also, protein-rich supplements like soybean meal increased in price so dairy farmers replaced a portion of those supplements with cheaper alternatives like alfalfa hay, he said.
Additionally, the price of fuel and fertilizers skyrocketed so farmers had to tack those expenses onto the cost of producing the hay, Bohle said.
Close behind the hay and forage category were small fruits and berries. They tallied the second biggest percentage gain with a 23 percent increase to $170.3 million from 2007 thanks in part to higher grower prices for most berry crops except blueberries, Burt said. Blueberries dropped to the No. 2 berry crop last year primarily because of a fall in grower prices, he said. Cranberries stepped into their spot as grower prices for them soared, he said.
Of the 12 broad commodity groups, specialty products posted the biggest drop in sales, shrinking 12.5 percent to $1.1 billion from the 2007 figure partly because sales in nursery crops fell and weak prices for farm forest products caused producers to delay harvesting woodlots on their farms and ranches, Burt said.
The recession is partly to blame, said OSU Extension forestry agent Mike Bondi.
"A depressed national market for lumber products – the result of the banking, mortgage and housing crisis – has reduced the amount of forest products harvested from farms," Bondi said. "Woodland owners are waiting for better days."
Of Oregon's 36 counties, Marion County reported the most sales at $604 million in 2008. Of that, $460.9 million came from crops. Umatilla County ranked second with $379 million in total sales.
Harvested land statewide totaled 2,953,547 acres in 2008 compared with 2,902,288 acres the prior year largely because of an almost 9 percent increase in harvested grain acreage, Burt said. Of the 2008 total, 1,070,838 acres were hays and forage and 1,014,700 acres were grains.
The report, which is titled "2008 Oregon County and State Agricultural Estimates," was funded by the OSU Extension Service.
By: Tiffany Woods
Source: Larry Burt