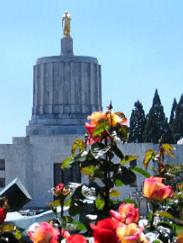 Oregon Wheat Growers League,
The Oregon Wheat Growers League Board of Directors led by President, Jeff Newtson, will travel to Salem February 12 and 13.  The Board has extended invitations to Senate and House Leadership to present their priorities for the Legislative Session during lunch on Thursday, February 12th.  In addition, George Taylor, former Oregon State Climatologist and Dr. Susan Capalbo of OSU will present their findings on the issues surrounding "Climate Change" and the economics of setting policy which impacts the agricultural community.  Growers are welcome to attend the luncheon as our guests.

Two special guests will be honored during the lunch program – Larry Frey, recently retired Oregon Farm Service Agency State Director and Paulette Pyle, Oregonians for Food and Shelter Grassroots Director.  These two individuals have contributed to the successes of the wheat industry and it will be our honor to recognize their efforts.
All wheat producers and industry supporters are welcome and encouraged to attend.  Please RSVP your attendance to the OWGL office at 541-276-7330.
###