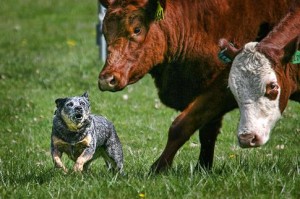 By Reinaldo Cooke
Oregon State Extension Service
BURNS, Ore. – Oregon State University has hired a recently graduated animal scientist from the University of Florida to conduct research on beef cattle and help address ranchers' needs. Reinaldo Cooke, who started in January, is based at OSU's Eastern Oregon Agricultural Research Center in Burns.
His appointment means OSU now has two statewide Extension beef specialists. The other is David Bohnert, who is also based in Burns and whose research focuses on nutritional management strategies.
Cooke, who earned a doctorate in animal sciences in December, will spend his time conducting research and reaching out to producers and the public through OSU's Extension Service.
On the research end, Cooke plans to focus on management options to enhance the reproductive performance of beef cows and heifers. He plans to develop management strategies and feeding programs to speed up the arrival of puberty in heifers and increase pregnancy rates in cows. Additionally, he intends to study how low-stress handling by humans affects reproductive rates of female Hereford and Angus breeds. Research has shown that stress – at cow pens, for example – can cause female cattle not to become pregnant, Cooke said.
"If they're not used to the cow pens and how to get into the chute, they can get stressed, and that can decrease pregnancy rates," he said. "Just two hours in a cow pen can be really stressful and affect their reproductive performance months later."
So Cooke plans to get the animals used to human handling at an early age. He'll wean the calves at six or seven months of age, then take them to cow pens where humans can interact with them. At the University of Florida, he and other researchers tested this strategy on Brahman-Angus crossbreeds and found it worked, he said.
"At first, they were temperamental and excited and trying to jump out of the cow pens," he said. "Four weeks later they were calm and walking slow. The heifers that went through this acclimation process reached puberty sooner and had higher pregnancy rates than those that didn't."
He added that this method can be an inexpensive way to accelerate the onset of puberty and increase reproductive performance because it doesn't require the use of drugs or additional feeding.
Cooke also aims to improve the health of calves so they'll be ready for the feedlots. Typically, calves are weaned at about seven months of age and then sent to a feedlot to be fattened up. But if they're not managed well at the cow-calf ranch, they can get sick and don't gain the desired weight at the feed yard, he said. So Cooke wants to take pre-emptive action and evaluate how background strategies, such as vaccination, weaning and feeding programs, will improve the health and performance of these calves at the feedlot.
On the public outreach side, Cooke plans to develop a statewide beef program for the Extension Service that would include the following: educational workshops offered around the state; a report published every two years that would explain OSU's latest beef research in layman's terms; an online database of technical articles that can be easily accessed and understood by producers; a field day where producers can visit the research center in Burns; and in-service training for Extension agents so they can stay current on the latest developments in the beef industry.
Cooke grew up in a medium-sized town surrounded by large citrus and cattle operations in the state of São Paulo, Brazil. He earned a bachelor's degree in animal sciences from São Paulo State University in 2003. The following year, he enrolled in the University of Florida.

By: Tiffany Woods
Source: Reinaldo Cooke