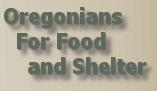 By Oregonians For Food and Shelter,
ENewsletter
The Budget Continues to be the Challenge

Legislators want to spend money and they have none to spend.  What a dilemma!!    The most recent Oregon Economic and Revenue Forecast was released today.  View the 2-20-09 Economic Forecast.  Last week was extremely busy.  The Farm Bureau, Wheat Growers, Board of Agriculture and OFS Boards were all in town.  Also, legislation of interest to OFS is beginning to surface from Legislative Counsel in the form of drafts.  Other legislation of interest will also be available for OFS staff to review very soon.  It appears the Legislative Council log jam has finally broken.

Ways & Means Leaders Declare "Their Solution" to Oregon's Budget Shortfall:
At this moment, the projected budget hole for the current biennium is approximately $800 Million.  The Ways and Means Co-chairs propose cutting spending by $362 Million plus using $330 Million in federal stimulus dollars to fill the deficit.   One way they propose to fill this gapping hole is by sweeping the balances from dedicated agency funds into the General Fund.  This will provide approximately $72 Million dollars to be reallocated primarily to schools and human services.  For example, $750,000 will be "swept" or perhaps a better term is "swiped" from the ODA's pesticides program fund balance – money paid in as pesticide product registration and pesticide operator/applicator/dealer license fees.  While the Co-Chairs hope that this will eliminate the $800 million hole with a little to spare, most are speculating they will be back looking for more as the economic decline continues to spiral downward.
Oregonians should be concerned that the creators of jobs and economic vitality in the state is getting lost in the legislature's frenzy to solve a problem that needs a different solution than the one being offered.  For example, Oregon will disconnect from the federal tax code.  This means that when the feds change the tax code, Oregon state tax code does NOT automatically recognize the change for Oregon tax payers.  To put this in real terms, the provision for accelerated depreciation of assets for federal tax purposes in the recently passed Obama stimulus plan will NOT be allowed for Oregon state tax purposes.   If the economic models that show the accelerated depreciation schedule encourages private spending and stimulates the economy are remotely accurate, the Governor and the Legislature need to recognize reinstating the accelerated depreciation would actually grow Oregon businesses and jobs – and more than make up the $30 million dollars in projected loss of tax revenue.
Support Oregonians for Food and Shelter