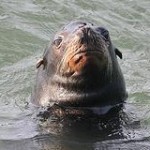 Oregon Dept. Fish & Wildlife– A California sea lion, previously identified as one of the animals regularly feeding on Columbia River spring chinook in the waters below Bonneville Dam, was euthanized today.
A health examination revealed the animal had a lesion of a viral origin that is indicative of cancer. The condition is potentially contagious to other animals in captivity. The decision to euthanize the animal was made by an attending state veterinarian after the animal was trapped below Bonneville Dam.

"Our primary goal is to place healthy animals in the approved facilities that have asked to receive them," said Rick Hargrave, ODFW spokesman. "This animal had an infectious disease that was potentially contagious and could not be placed in a zoo or aquarium without endangering other animals."
Veterinarians are still waiting on test results on a second animal trapped yesterday. If the animal is healthy and disease-free it will be relocated to the Shedd Aquarium in Chicago. Both animals had been identified as persistent predators of threatened salmon and steelhead below Bonneville Dam.
Today's actions are part of an effort by wildlife managers from Oregon, Washington, and Idaho to reduce sea lion predation on threatened populations of spring chinook salmon and steelhead that are now entering the Columbia River. Last year, NOAA granted the states the authority to trap, transfer or lethally control  California sea lions that have been documented as feeding on federally protected salmon and steelhead.
Trapping and removal operations at Bonneville Dam will continue through mid-May. Up to six more animals will be relocated – five to the Gladys Porter Zoo in Brownsville, Tex. and one more to the Shedd Aquarium.  Other animals that are trapped and cannot be placed will be lethally removed.
###