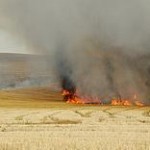 By Guest Opinion,
Last week a hearing was held on the bill to stop field burning.  Senate Bill 528 calls for an immediate stoppage of field burning in Linn, Benton and Lane Counties with a two year phase out in all other counties.
Gail Shibley, Environmental Public Health Office Administrator with the Oregon Human Services Department produced an exhaustive study completed January 2009. That study said there was no direct health issues linked to field burning. Also there have been no violations in air quality due to field burning. The only air quality violations issued were in the winter months due to air inversions not field burning.

One of the most active voices in support of ending field burning has been the Oregon Nurses Association (ONA). For the ONA field burning is a public health issue.   The ONA states that inhalation of fine particulate matter pollution caused by field burning increases the risk of hospitalization from respiratory distress, heart attack and stroke. Farmers respond to this health issue by stating that there is not enough solid data to support these findings.
Various agriculture organizations say the that the economic impact of ending field burning could be staggering. The loss could exceed a billion dollars in Oregon. The growing of Oregon Fine Fescue would most likely be entirely eliminated from Oregon. This type of grass must be burned to eliminate pest disease.