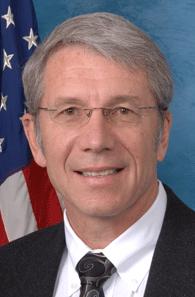 By Oregon Association of Nurseries,
Daily Digger Blog,
Major agricultural producers from Oregon met today with U.S. Rep. Kurt Schrader (D-Ore.) to ask for his help in resolving a costly trade dispute between Mexico and the United States. There's a press release about it here (PDF).
The issue came to a boil in March, when Congress voted to scrap a pilot program that had allowed Mexican trucks access to U.S. roads. The U.S. had agreed under the 1994 North American Free Trade Agreement to provide this access fully by 2000; the pilot program was only a first step in doing so. Mexico retailiated by imposing high tariffs on some 80 American products, including Christmas trees. "Ending the (trucking) program clearly violated provisions of NAFTA and provoked Mexico to retaliate against a number of industries, including the many Oregon growers who depend upon the Mexican market," OAN Government Relations Director Jeff Stone said.

One in four Oregon-grown Douglas fir Christmas trees, representing 11 percent of industry sales, are exported to Mexico. "These tariffs of 20 percent will take a big bite out of a grower community that produces over 7 million trees and is worth more than $110 million to the Oregon economy," OAN president Tom McNabb of Yule Tree Farms said.
Rep. Schrader said the issue needs to be resolved. "The role of government is to ease the lines of commerce to keep people working and the economy strong," he said. "With unemployment continuing to rise at an alarming rate, Oregonians need a quick resolution to this conflict."
Following today's meeting, Oregon agricultural groups intend to keep working with Oregon's congressional delegation, and the Obama administration, to resolve the problem in time for the placement of Christmas tree orders in early summer.