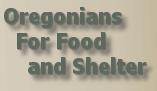 Oregonians For Food and Shelter
Legislative Update 4/24
SB 637 –  Amendments to this bill are now up to the dash-6 version.   Hopefully this will be the last and the bill can finally move out of committee work session.   It appears that should happen in the Senate Education and General Government Committee on Monday, April 27.    With almost all of OFS's significant concerns dealt with, we will support the dash-6 amended version.    The following are the latest OFS comments on the bill:

OFS urges the Senate Education and General Government Committee to adopt the dash-6 amendments to Senate Bill 637 and send the amended bill to the floor with a "Do-Pass" recommendation.  OFS staff greatly appreciates Senator Bonamici's willingness to continue working on the rough spots in the bill until acceptable language was found that protects the health of all school kids and still allow schools to accomplish pest management in an efficacious manner.
The dash-6 amendments make a number of positive changes to the bill:
• Provides a sound definition of IPM as a proactive, preventive strategy that focuses on protecting human health and campus structures.
• The dash-6 removes ODA's responsibility to coordinate the entire program and appropriately puts oversight and record-keeping for the program with the governing bodies of the schools.
• Simplifies the process for determining the list of approved "low-impact pesticides," allowing more flexibility to individual schools, provided the product is not classified by the U.S. EPA as a known or likely human carcinogen.
• Provides a mechanism for a school to use other pesticides for pest emergencies including germicides, disinfectants and antimicrobial agents.
• Simplifies the posting requirements for treated school areas.
• Allows for school notification of parents by electronic means.
• Requires any pesticide application to school property be done by a license applicator.
Equally as important for the farm, forest and urban members of OFS, is what be bill does NOT do:
• Does not modify the State's general IPM law crafted and passed jointly by OFS and the Oregon Environmental Council in 1991.  Instead it deals specifically with school environments.
• It does not modify current law which provides State preemption of local ordinances or regulations on pesticides, reserving that authority for ODA.  Instead it recognizes that local entities can determine their own policy for pesticide use as it pertains to their own property.
• It does not interfere with State "Right to Farm & Forest" statutes which protect landowners from nuisance actions against generally accepted and lawfully conducted farm and forest practices.
While OFS believes an unfunded mandate for private schools is problematic, we will leave that issue to those who represent the private schools in Oregon.
HB-2999  Representative Clem's PURS bill:  This also went through a long amendment process in an attempt to make it correct.   It finally passed out of committee by an 8 – 0 vote and is headed to the House Floor for a vote.   The final version clearly states the program will NOT be operational for 2009-11 biennium, therefore eliminating the fiscal cost to ODA which would have likely killed the bill in Ways & Means.    OFS supports.
HB 3226 – Modifies private right of action regarding nuisance vineyards. After much deliberation by all, it was determined that the problem that needed solving could already be done by the Oregon Dept. of Agriculture without the need for changing statutes.    Many thanks to Gary Conkling representing the Oregon Wine Growers Assn., Katy Coba, Director of Oregon Dept. Agriculture, Katie Fast of Oregon Farm Bureau, Representatives Mary Nolan, Bruce Hanna, Brian Clem, Sal Esquivel and Matt Wingard for working with OFS staff to resolve this issue to avoid legislation.  OFS opposed HB 3226.
The following "OFS Bills of Concern" were not scheduled for a Work Session by the APRIL 17TH deadline (and hopefully will remain dead):
SB 800: PURS Changes – Introduced by Senator Alan Bates of Ashland.  It would have made permanent the Pesticide Use Reporting System (PURS), changed the location from water basin to watershed plus required sales and distribution reporting.  It could show up in another form as stated above between now and the end of session. OFS was and will remain opposed.

SB 902: School Pesticide notification – Introduced by Senator Suzanne Bonamici of Beaverton.  It would have required that schools be notified 48 hours in advance of an aerial pesticide application within a quarter of a mile of the school.  OFS was and will remain opposed.