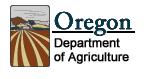 The Oregon Department of Agriculture is making preparations to award approximately $1 million in federal grants to selected projects that benefit the state's specialty crop industry. ODA is asking for input from producers this month at various locations around the state on opportunities and challenges facing the specialty crop industry in Oregon, and asking an advisory board to help determine priorities for specialty crop grant funding. ODA will begin accepting applications for funding by early summer.

The federal funds are part of the US Department of Agriculture's Specialty Crop Block Grant Program and authorized by the 2008 Farm Bill. Specialty crops are defined as commonly recognized fruits, vegetables, tree nuts, and nursery crops. Oregon ranks fifth in the nation in production of specialty crops.
"The Pacific Northwest is one of the most intensive specialty crop production areas in the country and will receive a boost from the federal funds," says ODA Director Katy Coba. "We are setting up a process that should maximize the benefit these dollars will provide to our producers and keep them competitive in the marketplace."
Oregon is working with neighboring states Washington and Idaho to encourage industry groups to collaborate with regional partners.
ODA's process begins next week with the hosting of listening sessions throughout the state. On Tuesday, May 12, 11:00 a.m. at district offices in Hermiston, Hood River, Medford, Milton-Freewater, and Ontario, ODA staff will be available by phone or in person for industry groups and individuals to provide comments on priorities for the specialty crop industry, and what challenges and opportunities should be addressed through this year's specialty crop grants. A listening session will also be held at the Food Innovation Center in Portland. In addition, comments can be e-mailed to <[email protected]>. A complete list of listening post locations and contact information is available online.
By June 1, an advisory board of industry representatives will determine overall priorities for funding based on input from the listening session and e-mails. Prospective applicants will then be encouraged to submit a brief concept paper to ODA outlining their proposed project, based on the established priorities. The advisory board will evaluate concept papers and select the top ranked applicants, who will then be asked to submit full proposals for further review. Final awards for specialty crop funding will be determined and announced in September or October.
Eligible activities may include, but are not limited to: product research, development, and promotion; market research; plant health programs; consumer and producer education; production and distribution efficiencies; conservation programs; and, reduction in environmental impacts. Funds may also be used to establish a producer association or cooperative.
ODA and the advisory board will look for innovative proposals and encourage interested parties to work together to submit collaborative project proposals. Multi-state projects and those that benefit new producers or socially disadvantage farmers are also strongly encouraged.
More details will become available later this month as ODA prepares to accept concept papers.
More information is available online or contact ODA's Agricultural Development and Marketing Division at (503) 872-6600.