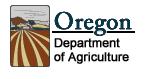 Oregon Department of Agriculture: It's much easier now for American potato growers and shippers to export their product to Russia. A first-ever agreement of its kind was signed earlier this spring after a delegation of Russian government officials viewed first-hand the inspection process and expertise used by the Oregon Department of Agriculture to certify potatoes destined for shipment. A team effort of state, federal, and industry officials showed the Russians what they needed to see. Now a protocol is in place that could significantly boost US potato exports into the Russian marketplace.

"It was very exciting to host the Russian officials during their US visit," says Bill Brewer, executive director of the Oregon Potato Commission. "We anticipate the value of our potatoes sold to Russian buyers to reach $5 million within a few years largely because of this agreement."
All potato-producing states stand to gain from the agreed upon protocol developed and signed in March by officials of the US Department of Agriculture's Animal Plant Health Inspection Service (APHIS) and the Russian Federal Veterinary and Phytosanitary Surveillance Services (VPSS). The six-member Russian delegation was interested in opening the door wider to US potato exports but needed assurance that someone- specifically a government inspector- would be looking for pests and diseases of concern. The site visit to Oregon and the presentations given by APHIS, ODA, and the respective potato commissions of Oregon, Washington, and Idaho sealed the deal.
"Every state with the potential to ship potatoes into Russia benefits because of the work done in Oregon," says Jim Cramer, administrator of ODA's Commodity Inspection Division. "They saw how we do the inspection, which involves a daily on-site, load-by-load evaluation of the potatoes. We talked about the training each of our inspectors must go through to certify products for export. We showed them the inspection manuals our inspectors use to identify pests and diseases. The tools and training provided to our state inspectors gave the Russians confidence that they will receive a quality potato."
The site visits included a tour of Amstad Produce in Sherwood, a major potato shipper, as well as a look at ODA's regulatory laboratory at the Food Innovation Center in Portland. The Russian delegation was even treated to a meal prepared by chef Leif Benson, a public member of the Oregon Potato Commission, who featured the potato in several innovative and delicious ways.
With USDA-APHIS oversight- including the work of Will Wise, National Trade Director based in Oregon- and similar inspection capability in all potato-producing states, the Russian delegation was quick to agree to a protocol for the entire US potato industry featuring shipment freedom from quarantine pests- the first time the Russians have signed such an agreement with the US government.
To ship potatoes to Russia in the past, growers and shippers were subject to the whims of Russia's import permit, which could change at any time to include new pests or diseases. The newly signed protocol codifies and limits the list of quarantine pests and diseases to a half dozen- a manageable number that can be easily detected by state inspectors. Now, shipments from the US can be more easily facilitated by the inspection and phytosanitary certificate showing that the loads of potatoes are free of the listed pests and diseases. Import permits will still be required, but the terms and conditions for export will be relatively simple.
The production value of Oregon's potato industry is $157 million, making it the seventh largest agricultural commodity in the state. About 25 percent of Oregon's fresh market potatoes are exported, according to Brewer. He expects more interest in Russia from Oregon growers and shippers because of the agreement.
"Last year, only a few thousand pounds of Oregon potatoes made their way to Russia," says Brewer. "Right now, our supply of potatoes is going down because we haven't had a market for them. So whenever we can increase a market, even if it's only a few thousand tons of potatoes, it can make a huge difference in the long run to the farmers and the economy of Oregon."
Dan Strebin, an Eastern Oregon potato grower who operates a packing shed in Troutdale, also sees export potential now that a protocol has been established.
"Now that Russia is open, I see the possibility of steady movement of potatoes as opposed to the traditional way of 60 loads shipped in September and then they store them," he says. "It will take several months before we can expect movement and possibly a couple of years to get any substantial volume. But as an example, 20 years ago, we sold our first container to Asia. They took two the next year. Today, we ship 51 weeks a year skipping one week between the old crop and new crop".
According to a US Potato Board report, Russians consumed, on average, 308 pounds of potatoes per capita in 2007, making it the world's third largest potato consumer. That's almost three times the amount consumed by Americans. The same report indicates a substantial imported potato market in Russia that is forecasted to grow in the near future. Since 1997, the amount of potatoes imported to Russia has quadrupled to about 400,000 metric tons. US exports can add to that total thanks to the agreement reached in Oregon.
The door to Russia has been opened a bit wider for US and Oregon potatoes. The successful negotiations and experience last month could possibly help other commodities.
"The Russians have confidence in our system after coming to Oregon and witnessing it first hand," says ODA's Cramer. "I think that gives us an opportunity to expand the offerings to other agricultural crops. It's important to have government programs that inspect and certify for quality, for absence of pests and diseases, and other issues of concern to export markets. The Russians recognize the value of these programs and now it's up to our fine growers in Oregon to continue producing a high quality product."
For more information, contact Jim Cramer at (503) 986-4620.