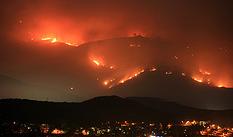 By Oregon Department of Forestry
When asked to characterize the upcoming wildfire season, Oregon Department of Forestry (ODF) fire managers are likely to fall back on Nobel physicist Niels Bohr's maxim, "Prediction is very difficult, especially if it's about the future." That's not to say they don't try. There are dozens of scientific indicators to pore over prior to the summer – weather trends (El Nino/La Nina), snowpack levels, forest fuel moisture content, et al. But the most critical factor in the equation plays out real-time: the weather during fire season.
If dry lightning occurs in a broad swath across the state, expect to see large wildfires. These thunderstorms bearing little or no moisture can produce hundreds of fire starts in a few hours and temporarily overwhelm Oregon's fire protection system.
These natural firestorms further confound wildfire managers in being difficult to forecast. Developing thunderstorm systems show up clearly on meteorological instruments, but whether they'll be dry or wet when they reach Oregon is often a guessing game.
With that considerable disclaimer, current conditions suggest that the state will experience an average to slightly worse-than-average wildfire season in 2009. Statewide, the weather forecast is for below-average rainfall in June, with a drier-than-average July and August likely to follow. Snow melt is currently about average, which tends to limit fire activity at higher altitudes early in the summer.
Within the state, the southeastern region is a special concern, as it is currently in drought. Besides the below-average rainfall, this area of Oregon that lies roughly south of a line from Klamath Falls to Ontario can also expect above-average temperatures this summer.
Finally, conventional forecasting logic says that the summer after a La Nina dissipates, the weather tends to be drier and warmer than average.
Firefighting forces
ODF plans to go into the 2009 season with a firefighting force that includes the standard complement of fire engines, hand firefighting crews, heavy air tankers and helicopters. Fire engine crews are the early responders, running on new reports of fire and seeking to put out 94 percent or more of them at 10 acres or smaller. Hand crews are called in to build fire lines around a blaze and to mop up afterward to prevent rekindling. These include 10-person inmate crews recruited from state correctional facilities and trained by ODF, and 20-person private contract crews.
Air attack comes in the form of leased heavy tanker airplanes and helicopters of all sizes. Though expensive to operate, firefighting aircraft prevent many high-potential fires from growing into major incidents.
Firefighting partners
In Oregon, wildland fire protection is much too big of a challenge for a single agency or department to take on alone. While the Oregon Department of Forestry, private forest landowners, the U.S. Forest Service, rural fire departments and other state, local and federal fire agencies have their respective jurisdictions, cooperation is second nature. A longstanding "closest-forces" agreement provides for rapid initial attack on new fires by whichever agency's firefighting resources can get there the quickest. Billings and reimbursements are sorted out later.
Preventing wildfires
About two-thirds of the wildfires annually in Oregon are started by people. In recent years, debris burns that escape control have emerged as the No. 1 cause. The common scenario: A homeowner stacks up yard waste in a pile or burn barrel, ignites it, and then leaves to do something else for a few minutes. Sparks carry into dry vegetation, and the sedate little burn becomes a raging wildfire. These are the fires we can all help prevent. Debris burning safety advice can be found on the ODF website, www.oregon.gov/ODF/safedebrisburning.shtml. The Keep Oregon Green Association also offers burning tips at: www.keeporegongreen.org.
When a dry lightning event is forecast, ODF fire managers may concentrate firefighting personnel and equipment in areas likely to be affected. These "move-ups" of aircraft, fire engines and crews help local forces suppress the wave of lightning ignitions so that no neglected starts can grow into major fires. Fire managers weigh many factors before ordering a move-up due to the high cost.
Remote automated weather stations deployed across the state provide satellite telemetry of weather data, key information used by ODF meteorologists to calculate fire danger throughout Oregon and support fire analysis work.