Timber Industry Report June 21
By Rick Sohn, Umpqua Coquille LLC
US housing starts and permits recovered from record lows.  Logs have stopped their 8-month slide, and studs have stabilized.  This is good news, relatively speaking.  See the 3-year price comparisons for lumber, logs, housing starts, permits, and unsold home inventories below.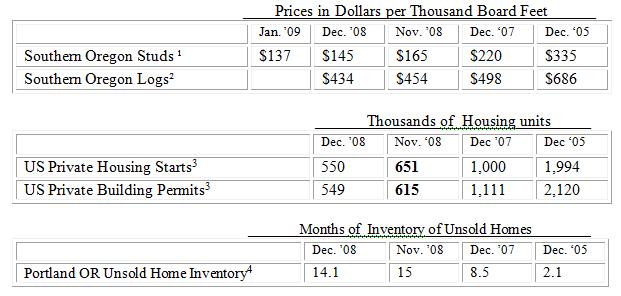 What the numbers mean.
Southern Oregon Studs are maintaining at a new plateau in the 160's, well above the 140's of earlier this year.  Logs finally ended their steady downward slide which began in October, 2008.  Log producers who had been keeping production high in order to cover bank or other internal costs, have finally cut back their production sufficiently to quit surpassing demand and put a floor under log prices.  This trend began with a slowing of the fall in log price last month, and the slight increase this month.  The turnaround in log prices normally follows lumber prices, and could hold.  We'll know more next month.
Housing starts and building permits have both posted increases from their all time lows posted last month, and the number of building permits issued for multi-family structures  actually decreased this month, showing the "strength" of the single unit housing market.  Strength is relative, as both permits and starts are each in their 6th month of the 4-500,000 range, less than 30% of levels just 3 years ago, as the chart above shows.
Portland's unsold home inventory continues to improve as well.  Underlying statistics of pending sales and time on the market continue to improve.   Mortgage rates have been reported in the mid 5% range, above the sub-4% lows, but still very attractive.  With respect to the Pacific Northwest timber industry, these numbers indicate stabilization.
Data reports used with permission of:
1)  Random Lengths.  2"x4"x8' precision end trimmed hem-fir studs from southern Oregon mills.  Price reported is Dollars per Thousand Board Feet  for the most recent week.
One "board foot" measures 12 inches by 12 inches by one inch of product.
2)  RISI, Log Lines.   Douglas-fir #2 Sawmill Log Average Region 5 price.  Current report is for the prior month.  Dollars per Thousand Board Feet are reported by standard log measurements using the "Scribner log table."
3)  Dept. of Commerce, US Census Bureau.   New Residential Housing Starts and New Residential Construction Permits, annually adjusted.  Current report is for the prior month.   Recent reports are often revised in bold from the prior month.
4)  Regional Multiple Listing Service RMLSTM  data, courtesy of Janet Johnston, Prudential Real Estate Broker.  Inventory of Unsold Homes (Ratio of Active Listings to Closed Sales) in Portland Oregon, for most recent month available.
© Copyright Rick Sohn, #2-6 Umpqua Coquille LLC.
Email  [email protected]