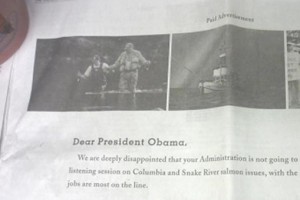 On May 26th, The Northwest Sportsfishing Industry Association and the Pacific Coast Federation of Fishermen's Associations placed a full-page ad in The Oregonian seeking Obama's attention on Columbia and Snake River salmon issues.   Below is a text of the letter and a complete picture of it can be found HERE.
Dear President Obama,
We are deeply disappointed that your Administration is not going to meet this week, during its listening session on Columbia and Snake River salmon issues, with the men and women whose jobs are most on the line.

We are businesses and families in communities from California to Alaska, sport fishing and commercial fishing. We support many thousands of jobs, and a 150-year heritage of livelihood and community. Fishing business is not a road to riches, but it provides family-wage jobs, good food, and deep roots for men, women, their families, and their towns throughout the Pacific salmon states.
Our economy's people have been under assault since well before today's hard times. As salmon have declined, so have our jobs and towns. Failed federal salmon policies on the Columbia and Snake rivers bear much of the blame. Salmon people responded to your call for hope and renewal, your compassion for people and our livelihoods. We see ourselves as partners in the sustainable, clean, green economy you have pledged to build for America. We heard your promise to change failed federal policies. We believe this hope was reflected in the individual acts of most west coast fishing people as citizens last November.
We were heartened when your Administration recently asked the U.S. District Court for time to review the flawed Columbia/Snake salmon policy inherited from your predecessor. Then we learned days ago that your delegation coming from Washington D.C. to start that review would have no time in its listening session to listen to the people whose jobs are most on the line. This is not in keeping with your pledges and promises, or with the job of rebuilding our economy. For many years, our salmon jobs and Northwest way of life have been at worst attacked and at best ignored by the federal bureaucracy with whom your representatives will spend nearly all their time. We believed that approach would change with you in the White House. We urge your Administration to meet with the businesses and community leaders, in all sectors, that your decisions will affect, and then choose a path forward that brings people together to restore salmon and salmon jobs, helps farmers and energy users, and rebuilds our Northwest way of life.
Thank you and with respect,
Northwest Sportsfishing Industry Association
Pacific Coast Federation of Fishermen's Associations