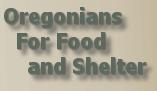 OFS Legislative Report
Oregonians for Food and Shelter
WEEK  21: The Democrat leadership is working at warp speed to shut down the '09 legislative session by June 30.  In other words, they have their minds made up on key issues like taxes and climate change.  Both could be extraordinarily expensive to OFS members and all businesses in general.   Please know the natural resource and business lobby are working well together in an attempt to insure that reasonableness rules the day.  Only time will tell if the "good guys" win, lose or draw.   Pesticides, Taxes and Employer Gag Bill are the three topics you will find of interest today.

PESTICIDES: The two pesticide specific bills that OFS had responsibility for this session are in the final stages of passage.  HB 2999-B (PURS) has passed both chambers of the legislature, but still needs to return back to the House for concurrence to address the Senate amendment further extending the sunset from 2016 to 2019.
SB 637-B (IPM in schools) is awaiting a vote on the House floor but has been carried over on the House calendar daily since last Friday.  We fully expect the bill to pass the House next week.  It too will need to return to its chamber of origin, the Senate, for concurrence.  The House added an amendment to clarify that janitors and kitchen staff did not need a pesticide applicator's license to clean toilets or disinfect food prep surfaces!!!  OFS staff does not see any impediments to its passage as well.
TAXES: This has become the $20 billion gorilla in the room.  Many of us believe that the Democrats have decided "the public just doesn't know how much they will appreciate the tax increases" so they're going ahead with plans to increase them.   Somehow they believe Oregonians don't really understand the economics when they say "no" to taxes.   Some Democrats have the attitude that the public will ultimately thank them for knowing what is really in their "best" interest!   Boy, are they in for a surprise!  However, if you do not want your taxes increased, please have a discussion with your legislator.  The business lobby under the leadership of Associated Oregon Industries are doing all they can to stop the tax madness.
EMPLOYER GAG BILL: We have received many questions about SB 519.  This bill is AFL-CIO sponsored and will dictate that Oregon employers will not be able to discuss political matters or religion in the work place.  We don't know how many of you discuss "religion", but we do know that discussions on "political matters" do take place from time to time.   With some clever use of embedding definitions within definitions, the term "political matters" also covers "the decision to join, or not join, support or not support any lawful constituent group or activity" – and then defines "constituent group" to include "labor organizations."    Put it all together and an employer will be prohibited from discussing union membership with his/her employees.   Please see the review Associated Oregon Industries has shared with us, "ACTION ALERT:  SB-519 Will Undermine Employer Ability to Talk to Employees" found elsewhere in this newsletter.