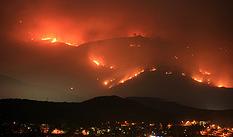 Oregon Department of Forestry — While many of Oregon's forest protection districts have not formally entered wildfire season, Nature made an unofficial declaration of its own during the past week. A barrage of more than 24,000 lightning strikes ignited fires across the central and southwestern regions of the state. The Oregon Department of Forestry's firefighters and private forest landowner resources have been busy extinguishing the fires.
In the Oregon Department of Forestry's (ODF) Southwest Oregon District, 32 lightning-caused fires have been reported, with the largest about five acres.
"This one occurred in the Applegate drainage," ODF's Greg Alexander said. "On the first day of the storms, it was very dry, and then we had some moisture in the following days."
He said the district has experienced lightning daily from May 29 to the present. Reports of fire continue to trickle in, with three new ones detected on Wednesday.
The protection unit forester cited ODF's partnership with local rural fire departments, the Bureau of Land Management and private landowners as a key factor in firefighters' rapid response to the many fire starts.
He said the district earlier decided to delay entering fire season due to forecasted rain, but will review fuel moisture levels and other factors over the weekend and make a decision possibly early next week.
While the lightning barrage prompted considerable firefighting activity, he said the rainfall accompanying the thunderstorms helped slow fire spread.
ODF's Central Oregon District has made about a dozen fire engine runs on lightning-caused fires over the past week, the largest of them a seven-acre blaze in the John Day Unit. Assistant District Forester Kristin Cotugno ('co-tug-no') said that older, dried-out fuels enabled that fire to grow rapidly before firefighters arrived. Elsewhere in the district, she said, less volatile fuel conditions prevented rapid spread from the lightning starts. Rapid response also played a key role in stopping them small.
"We had pretty good luck catching them," she said. "A Grayback Forestry hand crew, some [private] landowner bulldozers, and an ODF forest thinning crew came over from The Dalles Unit to help."
The week-long thunderstorm event, unusual for this time of year, resulted from a weather system that originated to the south of Oregon.
"A closed upper low off the central California coast pumped warm, moist southerly air into our region, which is a thunderstorm trigger," ODF meteorologist Nick Yonker said.
As the low-pressure system moved toward Oregon, it spawned thunderstorms over the Cascade Mountains and farther east. As the low got closer, the resulting disturbance brought thunderstorm activity to the west side of the mountains.
"The upper low is now on the wane and could begin dissipating going into the weekend," he said.
This early-season lightning outbreak will likely be short-lived. But the early timing, duration and intensity of the storms have fire managers concerned about what is to come in late June, July and August.