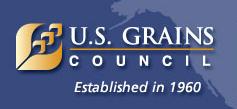 By U.S. Grains Council,
Farmers faced looming adversity during the spring planting season, causing lowered expectations, but ultimately overcame. USDA projects the second-largest corn planting acreage since 1946, after 2007. Early stages of planting were similar to last year's conditions. Though low temperatures and frequent precipitation slowed planting in early May, warmer dryer conditions eventually returned, allowing farmers to make accelerated progress in late May.

U.S. corn producers planted an estimated 87 million acres, up 1 percent from 2008. U.S. soybean farmers reached a historic high, increasing planting by nearly 2 percent from 2008, with 77.5 million acres planted. Together, U.S. corn and soybean producers worked steadfastly to plant a total 164.5 million acres, an increase of nearly 3 percent. U.S. Grains Council President and CEO Ken Hobbie said U.S. agricultural producers continually show their efficiency and ability to produce enough grains to meet market demands. He said U.S. farmers demonstrate a loyal commitment to assuring an adequate supply of affordable quality feed despite hardships faced during difficult spring planting. With rapid response to the marketplace, producers continually provide unwavering dedication and allegiance to U.S. and global consumers.
Continue reading article here.