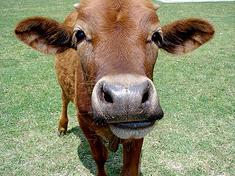 By Natural Resource Report,
Like many government programs the US Department of Agriculture's, Nation Animal Identification System (NAIS) begins with voluntary participation but many fear participation will become mandatory.  The NAIS tracks animals electronically using microchips attached to the animal's ear.  Installed shortly after birth, animals can be followed throughout their life cycle.  Proponents say the system can be used to quickly identify animals exposed to a contagious disease outbreak.
According to the NAIS website, when a disease outbreak occurs, animal health officials need to know:  Which animals are involved in a disease outbreak.  Where the infected animals are currently located.  What other animals might have been exposed to the disease.
Bill Moore, President of the Oregon Cattlemans Association said systems already exist in the west like brand and Brucelosis vaccination registration to effectively track the animals.
"If the government computerized those records it could use them to identify animals involved in a disease outbreak within 48 hours.  The manual process of checking the records is what takes time," Moore said.
"Our official policy is that the NAIS should be voluntary and market driven.  If it should become mandatory the question will be who will pay.  There is a cost associated with the tracking system.  Will the government pay or will it mandate the system and leave ranchers to cover the cost?" Moore stated.
Moore said that a tracking system in which animals are tagged shortly after birth is unrealistic in Oregon.  "We clave outside and don't tag the animals until they leave the premises."  With animals spread out over large areas conditions are much different in the west than east of the Mississippi.
"We want something that works and provides a financial incentive to the rancher.  We are afraid that we will be stuck with a one size fits all system that doesn't work as intended," he said.