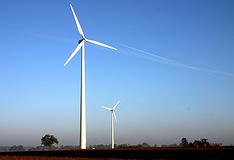 By Natural Resource Report,
Afraid that it may slow down Oregon's rush to green, renewable energy, Governor Ted Kulongoski recently vetoed House Bill 2472 that would have reduced the Business Energy Tax Credits (BETC) for wind energy developments and other renewable energy projects exceeding 15 megawatts.  Under the current program developers can receive a credit for 50 percent of the cost of a project up to a cap of $10 million.  The legislation would have changed the limits to a cap of $3.5 million for a $10 million project.
Since 2007, the state has paid out $68.8 million in credits.  Opponents say the rise in the BETC program, project to be $143.8 million in the next biennium, is just too expensive.
Driving the move to renewable energy is the state's Renewable Energy Portfolio Standard that mandates that 25 percent of all retail energy sales come from renewable energy sources by 2025.
House Bill 2472 also contained language making electric car and innovative battery producers eligible for the BETC program.  Kulongoski made a push to get the Norwegian electric car maker Think to build a manufacturing plant in Oregon using the BETC program as a carrot.
In his veto letter the Governor said, "The BETC has aided the renewable energy industry, which in turn has provided much needed jobs while transitioning the state toward cleaner, renewable energy sources.  Oregon now leads the nation in the percentage of jobs related to green energy.  I cannot support a bill that would scale back our support for one of the few growing sectors of our economy at a time when encouraging new economic opportunity is so critically important."