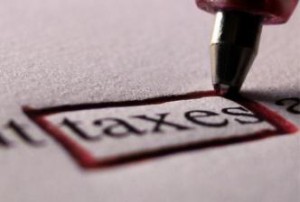 Oregon Farm Bureau Federation joins Oregon tax referendum petition campaign
By Guest Submission,
The Oregon Farm Bureau Federation has joined a broad-based coalition of business, natural resource and community groups and formed Oregonians Against Job-Killing Taxes to circulate petitions and collect signatures needed to place two tax measures on the ballot in a January special election.  The tax measures (HB 2649, HB 3405) raise the corporate minimum tax and income tax on higher earners.
Joining the Oregon Farm Bureau Federation are several agriculture based groups including: Oregonians for Food and Shelter, American Forest and Paper Association, Associated Oregon Loggers, Northwest Food Processors Association, Oregon Forestry Industries Council, and the Oregon Seed Council. With Oregon businesses struggling, the Farm Bureau fears that the tax measures will cost jobs, cause employers to lay off workers, reduce wages and benefits or force businesses to close their doors if the voters approve tax measures.
Raising the corporate tax is especially troubling to agri-business because it is essentially double taxation.  After paying the corporate tax individuals ultimately pay the tax again when the profits of the business, in the form of dividends or capital gains, are taxed as personal income.  It also makes less money available to re-invest and grow the business.
The proposed corporate tax rate of 7.9 percent coupled with the federal tax rate would have some Oregon business paying a combined rate of 40.1 percent for 2009-2010.
Another blow to small, agricultural businesses is how House Bill 3405 addresses the corporate minimum tax.  The minimum tax is the tax businesses pay even if they have no profits to tax.  Businesses could owe as much as $100,000 per year if the measures pass despite having no profits.
Individuals weren't left out in the Legislature's attempt to raise more money.  House Bill 2649 would increase income taxes for individuals earning more that $125,000 a year by 20 percent.  It also phases out the federal tax deduction for persons earning over $145,000.
In signing the bills Oregon Governor, Ted Kulongoski defended the tax, "Because of the national recession, Oregon is facing an economic crisis that is threatening education, public safety and health care – all critical services that Oregonians rely upon every day. These modest and targeted tax increases are a major step toward a more fair tax system for middle-class and working families in Oregon and will help meet the needs of families in crisis, stabilize local communities and preserve jobs."
In opposing the measures the Oregon Farm Bureau Federation asserts that in the midst of a recession is not the time to permanently increase income taxes on businesses and high income Oregonians by $733 million, the largest tax increase in Oregon history.
— The Oregon tax referendum initiative petition drive has until September 25th to gather enough signatures to qualify for the ballot.  A petition referendum has limited time to gatehr signatures compared to a traditional initiative petition.