By Rick Sohn,
Umpqua Coquille LLC
Lumber prices have gone up 25% this month!  Unsold home inventories and national homebuilding rates are moving in the right direction, albeit slowly. Logs have remained stable, moving up slightly. This is all good news, relatively speaking.  See the 3-year price comparisons for lumber, logs, housing starts, permits, and unsold home inventories below.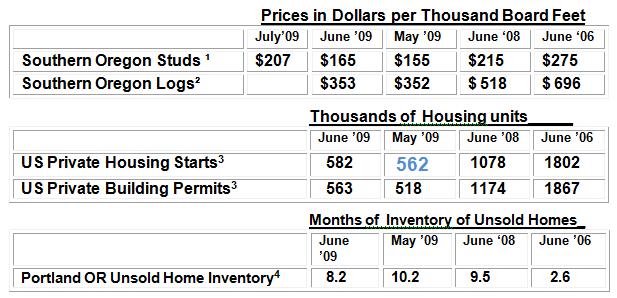 What the numbers mean.
There are several pieces of good news!!  Lumber prices have jumped up from $165 to $207, a jump of $42, or 25% from June to July.  (Studs were at $142 as recently as March.)  Building permits jumped almost 9% from June to May, and housing starts are up slightly.  The Portland unsold home inventory is also down by 20% in two months.  While log prices have gone up only $7 from a low of $346 in the last 2 months, lumber only went up $10 in the same period.  The log prices do not yet reflect the July jump in lumber prices.  Since log prices usually follow lumber prices, there should be a jump (or at least a hop) in log prices next month.
The damper to this good news is that even at these new and higher price levels, the fundamental numbers are still in the deep recession zone.  There is still too much unsold inventory, and a dismal, deep-recession level of housing permits and starts, which is predicted to change only slowly.  As reported last month by RISI, 2011 is predicted to be the first year of a healthy timber industry.  There is no justification to change this RISI projection, despite this report's relatively good news, and a federal tax credit for first time home buyers that is making headlines and helping propel new home sales.  It is generally reported that home prices are still falling nationwide, and foreclosures are continuing.  The wood products business is based on the principles of supply and demand, since inventories of any significant size take up a lot of space and are costly to maintain.
— Data reports used with permission of:
1) Random Lengths.  2"x4"x8' precision end trimmed hem-fir studs from southern Oregon mills.  Price reported is Dollars per Thousand Board Feet  for the most recent week.
One "board foot" measures 12 inches by 12 inches by one inch of product.
2) RISI, Log Lines.   Douglas-fir #2 Sawmill Log Average Region 5 price.  Current report is for the prior month.  Dollars per Thousand Board Feet are reported by standard log measurements using the "Scribner log table."
3)  Dept. of Commerce, US Census Bureau.   New Residential Housing Starts and New Residential Construction Permits, annually adjusted.  Current report is for the prior month.   Recent reports are often revised in bold from the prior month.
4) Regional Multiple Listing Service RMLSTM  data, courtesy of Janet Johnston, Prudential Real Estate Broker.  Inventory of Unsold Homes (Ratio of Active Listings to Closed Sales) in Portland Oregon, for most recent month available.
© Copyright Rick Sohn, #2-7 Umpqua Coquille LLC.
Email  [email protected]