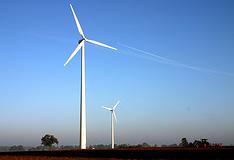 By Natural Resource Report,
According to the latest statistics from the Energy Information Agency, non-hydroelectric renewable power provided three percent of total electricity generated in the U.S. for 2008 up from 2.5 percent in 2007.The growing importance of state renewable portfolio standards and the proposals for a national renewable energy standard have sparked an interest in the share of U.S. generation provided by renewable energy.
As seen in Oregon, wind power accounted for the greatest increase in capacity.  By the end of 2008, wind power provided 1.3 percent of total U.S. generation (from all energy sources) up from 0.4 percent in 2004.  Total wind capacity stood at 23,847 megawatts at year's end, up from just 6,456 megawatts in 2004.
Oregon is ranked seventh in the nation with 5.4 percent of electricity generated coming from wind power.   Wind accounted for 42 percent of the new power added nationwide in 2008, the highest level ever.