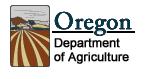 Oregon Department of Agriculture,
September 23, 2009… As Oregon's biodiesel renewable fuel standard takes effect, agricultural producers throughout Oregon will receive biodiesel-blended fuel from their suppliers for their farm tanks. ODA encourages farmers and ranchers to take a few simple precautions as they begin to store and use the fuel.  The Oregon Legislature passed a bill during the 2009 session to accelerate the deadline for the 2% biodiesel renewable fuel standard. The standard has already taken effect in nine northwest Oregon counties and will take effect in the rest of Oregon after October 1.
ODA's Measurement Standards Division has notified fuel distributors and retailers of the deadlines for the standard and that dealers must ensure their tanks and distribution systems are properly prepared to avoid any problems with the introduction of biodiesel into the fuel.
To help ensure quality and minimize problems, in-state produced biodiesel is required to have been tested and received a Certificate of Analysis (COA) on each batch or production lot of biodiesel prior to blending with diesel fuel. In addition, imported biodiesel must have a COA on each batch or production lot after entry into Oregon and prior to blending with diesel fuel.
ODA will also periodically test B100 biodiesel at the receiving terminal prior to it being blended with the standard diesel fuel. The program helps ensure the parent products– the biodiesel and the diesel itself– meet specifications prior to the blending and helps prevent problems at the consumer level.
Most consumers should not notice a difference in vehicle fuel economy or performance with the addition of two percent biodiesel to their fuel. Agricultural fuel users can help prevent problems by taking the following precautions:
•      Clean your diesel storage tank to remove water and other contaminants prior to adding biodiesel-blended fuel to the tank. Biodiesel is a natural solvent and can loosen and detach materials deposited in your storage tanks. It can also absorb water.
•      Keep extra filters on hand for your diesel fuel tank pump and for your farm equipment during the first few weeks using the blended fuel.
Another potential concern with biodiesel, especially in the winter, is that it can gel at higher temperatures than the standard diesel. However, this shouldn't be a problem at the two percent blend level. It may raise the gelling point very slightly, but it shouldn't be noticeable to consumers. Biodiesel blends of five percent or less must meet the same national fuel quality requirements as straight diesel, and even straight diesel fuel is treated in the colder months to prevent gelling.
For more information about the renewable fuel standards, contact Stephanie Page at the Oregon Department of Agriculture at (503) 986-4565.
Stephanie Page
Renewable Energy Specialist
PH (503) 986-4565
FX (503) 986-4750
[email protected]