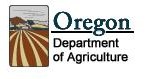 Production value increases don't keep pace with rising costs
Oregon Department of Agriculture,
Very little change took place last year in Oregon's overall net farm income, but what could have been a great 2008 bottom line for farmers and ranchers was negated by a rapid increase in expenses. A newly released economic snapshot of Oregon agriculture shows net farm income at $861 million in 2008- a one-tenth of one percent decrease from the previous year and a 12 percent drop from the five year average. The latest numbers continue the downward trend of net farm income in Oregon since 2003's record high of $1.14 billion.
"Just as everything seems to cost substantially more to the rest of us, Oregon agricultural producers are having to pay much more for all the things that go into running an operation," says Katy Coba, director of the Oregon Department of Agriculture. "The positive news is our farmers and ranchers enjoyed strong prices for the most part and were able to maintain good production. That softened the blow of higher expenses in 2008. However, I'm concerned that when the 2009 net farm income numbers come out next year, we'll realize how challenging the current conditions truly are."
Net farm income is the amount retained by agricultural producers after paying all business-related expenses. It is considered an important indicator of the agricultural economy's overall health. The number does not account for payments on land purchases, family living expenses, or family health insurance. Statistics provided by the U.S. Department of Agriculture's Economic Research Service (ERS) show net farm income has trended down the past couple of years.
Net farm income bottomed out in 1983 at $283 million, then peaked in 1992 at $681 million and in 1997 at $672 million. Times were tough once again in 2000 ($407 million) and 2001 ($433 million) before the number more than doubled in 2003, pushing over the one billion dollar mark for the first time in 2004. By 2007, net farm income in Oregon began to drop back down once again, as farm expenses have taken a bigger bite out of a healthy production value.
"What we are seeing is that the cost of doing business for farmers and ranchers is now outpacing the sales generated, which translates into a flat bottom line from last year and a decrease over the five year average," says ODA analyst Brent Searle. "Overall, the value of production was up five percent from the previous year, but what operators have to pay to produce their crops and livestock was up seven percent last year and 26 percent over the five year average."
The value of Oregon crop production in 2008 reached $3.2 billion- an increase of 7.7 percent, while the value of Oregon livestock production was $1.02 billion- a decrease of just 1.2 percent. Grain crops especially did well because of high commodity prices and record exports. Livestock sales were actually up because of herd liquidation due to higher feed costs and other inputs, but the overall value of production was flat because of the decreased inventory (number of animals) in both beef and dairy cattle.
Oil crops, in particular, did extremely well last year- doubling in value to more than $2 million as interest in renewable fuels continues in Oregon.
Nearly all expense categories show increases in 2008 and significant jumps in the five year average. The cost of fertilizers increased nearly 30 percent and has risen almost 70 percent over the five year average. Pesticide costs rose 17 percent last year and are up more than 25 percent over the five year average. The same kind of price hikes all Oregonians have seen for petroleum and electricity impacted agriculture with increases over the five year average of 53 percent and 35 percent respectively.
Labor, however, is by far the greatest cost incurred by agricultural producers.
"Employment wages continue to be the biggest cost for farmers and now totals over a billion dollars for the first time," says Searle. "That's up more than three percent from the prior year and represents more than 40 percent of the total input costs paid by growers."
The 2008 net farm income for Oregon's neighbors show a mixed bag of results. Washington increased 3.7 percent and Idaho increased 1.4 percent over the previous year. But California recorded a whopping 29 percent decrease in last year's net farm income. The national average rose 23 percent in 2008, after three years of decline, to a level nearly identical to 2004.
It will be late summer of 2010 before this year's balance sheet is finalized. But with more than half of 2009 already completed, the early forecast portends a more sizable drop in net farm income.
"Prices in 2009 are collapsing for many key commodities such as grass seed, nursery stock, milk, and blueberries," says Searle. "We know from past experience that expenses do not decline as fast as income. So we will see a squeeze in 2009. Depending on what they produce, farmers and ranchers may face intense pressure to their bottom line."
A tough economy may bring about some industry changes. Searle would not be surprised to see more grains and vegetables planted in the Willamette Valley, for instance, as grass seed growers reduce the amount of acres planted. Those kinds of transitions are not necessarily bad in a state like Oregon.
"Our diversity may be a strength as farmers look at opportunities in such areas as renewable resources and conservation programs," says Searle. "Technology is increasingly important, both in terms of mechanical applications and crop technologies. Our producers continue to look closely at the bottom line and scrutinize their operations for ways to become more efficient and cost effective. Challenges can create opportunities."
Net farm income is just one of several economic indicators of agriculture's health, but it continues to be a good gauge of how the farmer and rancher is feeling in the pocketbook.
For more information, contact Brent Searle at (503) 986-4558.