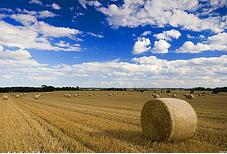 A trip to the grocery store, simple enough, but now there is a choice to be made, organic or non-organic products? What does organic really mean?  Whatever it means, organic farming has been one of the fastest growing segments of U.S. agriculture in the last decade and Oregon is no exception.
According to a study conducted by Washington State University and Oregon Tilth Certified Organic in 2008 farm acreage in Oregon certified as organic has increased over six fold between 1999 and 2008.  Between 2005 and 2008 certified acreage grew 39 percent.  The acreage category with the biggest gain is in the forage category as dairy farms increasingly seek to have their products classified as organic.
Congress passed the Organic Foods Production Act in 1990. Oregon passed the first organic standards legislation in the U.S. in 1973. When you see "organic" in a store or on a product it is a labeling term indicating that the products have been produced under the authority of the Organic Foods Production Act.  The National Organic Standards Board approved a definition of organic agriculture that said, "The primary goal of organic agriculture is to optimize the health and productivity of interdependent communities of soil life, plants, animals and people."
If products are detected with prohibited substances levels that are greater than five percent of the Environmental Protection Agency's allowance for the specific residue detected, the product must not be sold, labeled or represented as organically produced.
In order to be classified as organic, operations must be certified by an organization such as Oregon Tilth Certified Organic, verifying that the business meets the organic operation standards. The organic certification process covers not only the end product, but also every step of the process from harvest to market.  Farmers apply for certification, are inspected, the application reviewed, any discrepancies corrected and finally certified as organic.
.
Organic farming has grown to such an extent that, September 14-20, 2009 has been declared Organically Grown in Oregon Week by Governor Ted Kulongowski. The week will celebrate, promote and demonstrate the importance or organic agriculture in Oregon