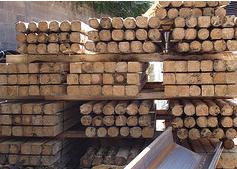 By Rick Sohn,
Umpqua Coquille LLC
Timber Industry Report, September 28, 2009
Lumber prices fell 15%, housing starts and building permits are up only slightly, and unsold inventory actually rose after falling for months.  Perhaps the brightest spot this month is the historically low mortgage interest rate.   See the 3-year price tracking for lumber, logs, housing starts, permits, unsold home inventories, and mortgage rates below.




What the numbers mean.
Seasonally, housing activity slows down in the fall, as people get settled in for school.   This slowdown was reflected in a rise of unsold home inventory in August after a steady 7-month fall.  Yet, mortgage rates remained at historically attractive rates, improving just slightly.  Of course, the rate of foreclosures continues to stoke the inventory pipeline as well.  Households foreclosed upon may eventually want to own a home again, increasing the pent-up demand sometime in the future.  But when?  As the fall progresses, the statistics should continue to drop, and we can only hope for a spring 2010 recovery.  One other factor that could influence these trends would be an extension of the $8,000 first-time homebuyer tax credit into 2010.
The wood products market took a major hit, as Studs dropped 15% since August, reflecting the reality that housing starts and wood demand simply could not support the lumber supply in the pipeline. Actually, the price had dropped to $165 by September 4, and has stayed at that level for 3 weeks.   The bump up in log prices to $390 is not likely supportable.  The main factor holding up log prices is the shortness of supply, caused by a reluctance of log owners to sell logs, due mainly to such low prices.  This is all very bad news locally, but not unexpected, given the anemic increases in housing starts and building permits.
Data reports used with permission of:
1) Random Lengths.  2"x4"x8' precision end trimmed hem-fir studs from southern Oregon mills.  Price reported is Dollars per Thousand Board Feet  for the most recent week.  One "board foot" of product measures 12 inches by 12 inches by one inch thick.
2) RISI, Log Lines.   Douglas-fir #2 Sawmill Log Average Region 5 price.  Current report is for the prior month.  Dollars per Thousand Board Feet of logs are reported using standardized  log measurements from the "Scribner log table."
3) Dept. of Commerce, US Census Bureau.   New Residential Housing Starts and New Residential Construction Permits, annually adjusted.  Current report is for the prior month.   Recent reports are often revised in bold from the prior month.
4) Regional Multiple Listing Service RMLSTM  data, courtesy of Janet Johnston, Prudential Real Estate Broker, Roseburg, OR.  Inventory of Unsold Homes (Ratio of Active Listings to Closed Sales) in Portland Oregon, for most recent month available.
5) Freddie Mac.  Primary Mortgage Market Survey.  30-year Fixed Rate Mortgages Since 1971, national averages.  Updated weekly, current report is for the prior full month.
© Copyright Rick Sohn, #2-9 Umpqua Coquille LLC.   Email  [email protected]