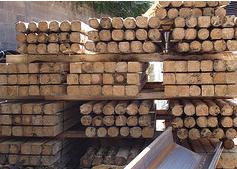 By Rick Sohn,
Umpqua Coquille LLC
Timber Industry Report, October 19, 2009
The Western Wood Products Association economic forecast for the wood products industry, projects that we will not reach 1 million housing starts until 2012.  Log prices moved up this month, increasing the squeeze on mills.  Fortunately, there is a small drop in unsold inventories and a significant drop in mortgage interest rates.  See the 3-year price tracking for lumber, logs, housing starts, permits, unsold home inventories, and mortgage rates below.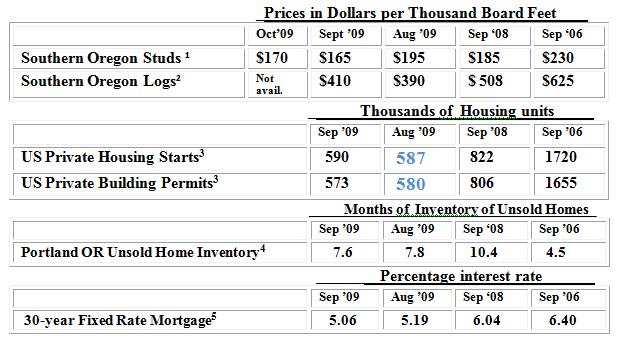 What the numbers mean.

The lumber price has strengthened slightly, compared to last month, but still trails the August lumber prices by $25.  Log prices have strengthened, likely due to a more acute shortage of logs, caused by an unwillingness of owners to sell logs at these low prices.  For mills, the relation of log prices to lumber prices is important.  But for private timber owners,  the cost of log production, which includes Oregon's scientifically-based standards for reforestation, safety and environmental protection on private lands, are simply too high for most owners to want to sell logs at prices like these, unless forced to.   In last month's report, I predicted that a $390 log price was not supportable.  It is still not supportable, and mills are chasing too few logs to keep up even their dismal production schedules (often just ¾  of one shift) , so the log prices have gone up 5%.
The ever so slight rise in housing starts could be encouraging, since we are getting into the fall, but the rate of building permist suggests that a seasonal downturn in housing starts is around the corner.  One very encouraging factor is that the 30 year fixed rate mortgage rate is even more attractive than its historically attractive rates in August.
On the dimly bright side is a very slight fall in the unsold inventory of homes in the Portland housing market, although not to the 7.3 months level reached in July, 2009.   Compared to the September 2008 level of 10.4 months, when inventories were still rising, good progress has been made.
At lest some people are taking advantage of the low mortgage rates.  According to RMLS, pending home sales in the Portland market are inching up, as they have been since January.  This compares to a falling trend from May until the end of the year in both 2008 and 2007.  The increased pending sales in 2009 and the slight fall in unsold inventories are good news, because there needs to be a significant reduction in the unsold home inventory for housing starts, the driver, to increase.
Data reports used with permission of:
1) Random Lengths.  2"x4"x8' precision end trimmed hem-fir studs from southern Oregon mills.  Price reported is Dollars per Thousand Board Feet  for the most recent week.  One "board foot" of product measures 12 inches by 12 inches by one inch thick.
2) RISI, Log Lines.   Douglas-fir #2 Sawmill Log Average Region 5 price.  Current report is for the prior month.  Dollars per Thousand Board Feet of logs are reported using standardized  log measurements from the "Scribner log table."
3) Dept. of Commerce, US Census Bureau.   New Residential Housing Starts and New Residential Construction Permits, annually adjusted.  Current report is for the prior month.   Recent reports are often revised in bold from the prior month.
4) Regional Multiple Listing Service RMLSTM  data, courtesy of Janet Johnston, Prudential Real Estate Broker, Roseburg, OR.  Inventory of Unsold Homes (Ratio of Active Listings to Closed Sales) in Portland Oregon, for most recent month available.
5) Freddie Mac.  Primary Mortgage Market Survey.  30-year Fixed Rate Mortgages Since 1971, national averages.  Updated weekly, current report is for the prior full month.
© Copyright Rick Sohn, #2-10 Umpqua Coquille LLC.   Email  [email protected]