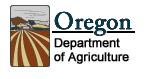 Oregon, Washington combine for three-country trade mission
Oregon Department of Agriculture,
Pacific Northwest potatoes will be the main course of a 10-day trade mission to Taiwan, the Philippines, and Hong Kong that includes the top agriculture officials in Oregon and Washington among delegation members. The promotion and discussion will not be confined to fresh potatoes, but the opportunity to develop new markets for a major Northwest commodity is enough to bring the two states together starting this weekend in Taipei. Oregon Department of Agriculture Director Katy Coba and Washington State Department of Agriculture (WSDA) Director Dan Newhouse are joining forces hoping to more than double the effectiveness of this overseas trip.

"This is a very exciting trade mission for us and it's the first of its kind," says Coba. "Never before have the agriculture directors of Oregon and Washington alone traveled together to lead a delegation to Asia. We believe having the two states together gives us that much more of a presence. We can both talk about Pacific Northwest agriculture. So much of the agriculture in both states is similar. We are just basically separated by a big river- the Columbia."
Coba's counterpart to the north is in full agreement.
"With our high quality food products and a weaker U.S. dollar, agriculture exports are going to help lead us out of this recession," says Newhouse. "This mission will help open and expand international markets to benefit individual growers and economic growth in our region. Here in the Pacific Northwest, we have great working relationships across state lines. As neighbors and partners, our two agencies are doing more together for farmers in our states than we could do alone."
Officials from the two states will meet with several high level government officials in the three Asian nations and discuss not only opportunities, but challenges that need to be overcome so that both Oregon and Washington can export more products into these key markets.
The trade delegation also includes the potato commissions from Oregon and Washington. It is their commodity that is generating the most interest. The latest round of funding by USDA's Specialty Crop Block Grant Program included money for the trade development mission to Asia. Marketing staff from ODA and WSDA will be joined by a group of fresh market potato growers and packers from the two states along with a chef who just happens to be the public member of the Oregon Potato Commission. Leif Benson, who serves as Timberline Lodge's executive chef, will conduct cooking demonstrations for representatives of restaurants, wholesalers, and retailers. About a ton of specialty potatoes from the Klamath Basin have already been shipped to Hong Kong for in-store promotions at 27 Park n' Shop supermarkets. Benson plans to be at a couple of the stores himself.
"We have several varieties and colors of potatoes to demonstrate in these markets and Chef Benson has several methods of preparation to show," says Bill Brewer, executive director of the Oregon Potato Commission.
Benson has been known to get creative with the potato but his overall objective is to introduce the fresh potato to a culture that primarily thinks of French fries when it comes to spuds imported from the Pacific Northwest.
Other regional specialty crops will also be featured as part of the trade mission.
"There's a rumor that wine and potatoes go well together," says Coba. "So we'll take some Oregon wines with us. We often combine commodities to promote Pacific Northwest products on these kinds of missions."
Another member of the delegation is Oregon Wheat Growers League President Jeff Newtson, who will have separate meetings with officials to look at opportunities to sell more Oregon wheat into these Asian markets, primarily high-value, specialty wheat products.
Each of the three stops represents a key export market for Oregon. Hong Kong, as a gateway to the rest of China, has been an important destination for Oregon agricultural products. Southern China, in particular, appears to be coming out of the global economic downturn in a strong way. Taiwan has historically been a top five export market for Oregon agriculture. The Philippines is not a new market but could be considered a great candidate for comeback customer of the year.
"Ten to 15 years ago, ODA was fairly active in the Philippines, but when there were years of government unrest, we backed off," says Coba. "Now things have stabilized and we think there are great opportunities for our products, especially potatoes."
The struggling economy at home places more importance on these overseas trade missions at this time, according to Coba.
"Oregon agriculture is so dependent on what I call the three-legged stool of local markets, domestic markets, and international markets. We've been very active in all three areas. But when we see the domestic or local market in a downturn like this for many of our commodities, we need to take advantage of that third leg of the stool- the export market. Providing international market opportunities for our producers can help keep them healthy enough to get through this economic cycle, and that's a very good thing."
As mentioned, the value of the US dollar is down, which makes Pacific Northwest products less expensive in the export market. That's another reason for looking at overseas customers.
As is the case with all agricultural trade missions organized by ODA, a final assessment of success may not be possible for awhile. The real and lasting value of the trip- including sales- may not be known for months, if not years. But having two states send their agriculture directors and marketing staff- not to mention key industry folks- should pay off in both the short term and the long run.
For more information, contact Bruce Pokarney at (503) 986-4559.