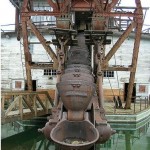 Oregon congressional members, Ron Wyden, Jeff Merkely and Peter DeFazio recently sent a letter to the Secretaries of Interior and Agriculture seeking a moratorium on mining in the Siskiyou Wild Rivers area. The letter follows a similar one sent last month by Oregon Governor, Ted Kulongoski.
The letters sought withdrawal from the Mining Law of 1872 of the Siskiyou Wild Rivers area under the authority granted the Secretary of Interior in section 204 the Federal Land Policy and Management Act of 1976. The letter asserts that withdrawal is necessary to protect one of Oregon's most unique and biologically diverse areas in Sothern Oregon. Withdrawal would effectively ban mining in the area.
Not so fast say miners working the area, "Mining is a right that was granted by the U.S. Congress in the mid-1800s," said Ron Gibson, vice president of the Southwest Oregon Mining Association.
Mining activity in Southern Oregon has come under closer scrutiny since California banned suction dredges last August. Some fear that the ban will drive suction miners into Oregon from California. So far, that has not been the case. Over 800 mining claims have been filed in the Wild Rivers area since 2001.
The other incident that has drawn attention to mining in the Wild Rivers area is the recent conviction of a Gold Hill man for illegal mining. Clifford R. Tracy of Gold Hill was mining without a permit on Sucker Creek in Josephine County.